NIH-funded study also finds diminished educational attainment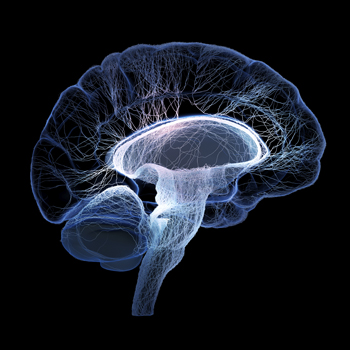 Young people who sustain a traumatic brain injury before the age of 25 may be more likely experience a psychiatric illness and die earlier than those who have not had such an injury, according to an analysis funded by the National Institutes of Health. The researchers also found that those who had a head injury may complete fewer years of school and are more likely receive a disability pension.
The study, conducted by Amir Sariaslan, M.D., of the University of Oxford, and colleagues in the United States, the United Kingdom, and Sweden, was published in PLOS Medicine. It was funded in part by NIH's Eunice Kennedy Shriver National Institute of Child Health and Human Development.
Background
Traumatic brain injury (TBI) may result when the head hits an object or when an object pierces the skull and brain tissue. TBI can be mild, moderate, or severe, depending on the extent of damage to the brain. According to the study authors, TBI accounts for roughly 848,000 hospital admissions and emergency room visits in the United States each year among people under age 25. Previous studies of adults have linked TBI to psychiatric illnesses and higher rates of cognitive impairment later in life. However, few large studies have been conducted of young people with head injury.
Study Results
The researchers reviewed medical, health, and other records of Swedish people born between 1973 and 1982, looking for people who had a TBI before age 25. The Swedish government offers research access to nationwide databases of health and employment records, providing sources of information not available in many other countries. Out of more than 1 million people, the researchers identified more than 104,000 who had a TBI before age 25.
The researchers found that, on average, young people who had a TBI were nearly twice as likely to have been hospitalized for a psychiatric illness, compared to those who did not have a TBI before age 25. Additionally, those with a TBI were nearly twice as likely to die prematurely (before age 41) and to have a disability pension. Compared to younger TBI patients, those who had their injury at ages 20 to 24 had a 25 percent higher risk for psychiatric hospitalization and premature death. Similarly, the TBI patients also did not progress as far educationally and were more likely to be receiving government assistance (welfare benefits). Those who had more than one TBI had three times the risk for any of these outcomes. The TBI patients had essentially the same high risk when compared to their siblings, which the researchers said discounts the likelihood that hereditary and environmental factors could account for their adverse outcomes.
Significance
The study authors noted that young TBI patients typically did not receive follow-up care after their injury. Given that these people tend to be at higher risk for illness, death, and lower educational and economic achievement, medical practitioners may want to consider programs to follow them over a longer period of time.
Given their findings, the study authors stressed the importance of preventing traumatic brain injuries in children.
According to NIH's National Institute of Neurological Disorders and Stroke, TBI prevention measures include wearing seatbelts while in vehicles and wearing helmets for riding bikes and playing sports. Anyone with signs of TBI should receive medical attention as soon as possible. In addition to loss of consciousness, other symptoms include headache, confusion, light-headedness, dizziness, blurred vision, fatigue, and nausea.
Reference
Sariaslan, A, et al. Long-Term Outcomes Associated with Traumatic Brain Injury in Childhood and Adolescence: A Nationwide Swedish Cohort Study of a Wide Range of Medical and Social Outcomes. PLoS Med 13(8): e1002103. doi:10.1371/journal.pmed.1002103.