Small NIH-funded study observes improvement in bone mineral density among young adults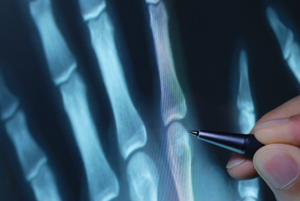 -stock photo
---
A monthly high dose of vitamin D3 may prevent the loss of bone density often experienced by people taking the anti-HIV drug tenofovir disoproxil fumarate (TDF), according to researchers funded by the Eunice Kennedy Shriver National Institute of Child Health and Human Development, part of the National Institutes of Health. Their study appears in Clinical Infectious Diseases.
Background
Vitamin D is a nutrient found in some foods. The vitamin has two forms, D2 and D3, and D3 is thought to be more efficient at fostering calcium absorption, which is important for healthy bones.
TDF is frequently used in combination with other anti-retroviral drugs as a treatment for HIV. In earlier studies, researchers had found that daily doses of 4000 International Units (IU) of vitamin D, along with calcium, could reduce the decline in bone density in people using TDF. Another study found that a much larger dose of vitamin D (50,000 IU), once every 4 weeks for 12 weeks, decreased the amount of parathyroid hormone (produced in large amounts by people taking TDF), which depletes calcium from the bones.
The researchers hypothesized that a monthly dose of 50,000 IU for 48 months would be better at decreasing parathyroid hormone levels in youth taking TDF and improving bone density. Patients might also find it easier to take only one pill a month than having to take a daily multivitamin.
Results
In the current study, 214 participants were assigned at random to receive either 50,000 International Units (IU) of vitamin D3 or a placebo once a month, along with a multidrug anti-HIV treatment containing TDF. All participants received a daily multivitamin containing 400 IU of vitamin D3 and calcium. After 48 weeks, the researchers recorded bone mineral density in the lower (lumbar) spine of all the participants. The lumbar spine absorbs minerals more rapidly than other bones.
Participants who had received the monthly high dose of vitamin D3 had gained an average bone mineral density of 1.15 percent, compared to an average increase of .09 percent in the placebo group. For participants in the high dose vitamin D3 group, improvement in bone density occurred regardless of whether they had a deficiency of the vitamin when they enrolled in the study.
Significance
The researchers concluded that a monthly high dose of vitamin D3 merits consideration for improving bone density in patients taking TDF as part of their treatment.
Reference
Havens, PL, et al. Vitamin D3 supplementation increases spine bone mineral density in adolescents and young adults with human immunodeficiency virus infection being treated with tenofovir disoproxil fumarate: a randomized, placebo-controlled trial. Clinical Infectious Diseases.
https://doi.org/10.1093/cid/cix753.