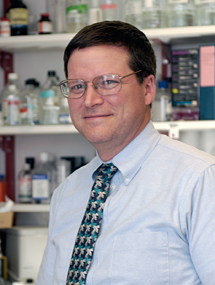 Forbes D. Porter, M.D., Ph.D., has been appointed Clinical Director of the Division of Intramural Research at the Eunice Kennedy Shriver National Institute of Child Health and Human Development (NICHD).
"Dr. Porter is an accomplished scientist, a model clinician, and a skilled administrator," said Alan E. Guttmacher, M.D., Director of the NICHD. "His leadership and guidance will be strong assets in carrying out the NICHD's mission and in helping to realize its scientific vision."
The division's clinical research program currently includes more than 100 research protocols focusing on adult, pediatric, and reproductive endocrinology, human genetics, growth and development, national and international health, and women's health.
"I am honored to have been chosen to direct the NICHD's distinguished clinical research program," Dr. Porter said. "I will do all that I can to assist institute scientists in their quest to improve the public's health through their research efforts."
Dr. Porter has served as Acting Clinical Director since April, 2010. He is currently head of the division's Section on Molecular Dysmorphology. His work in that section has focused on understanding two rare genetic disorders involving cholesterol, Smith-Lemli-Opitz syndrome and Niemann-Pick disease type C. Smith-Lemli-Opitz syndrome results from a defect in the ability to manufacture cholesterol. Individuals with the condition may have intellectual disability, smaller than normal head size, and certain physical malformations. Severe cases may be life-threatening. Nieman-Pick disease type C results from a failure of cells to break down and use cholesterol. The accumulation of cholesterol results in damage to the nervous system, and, eventually, death.
Dr. Porter came to the NIH in 1993 as a Senior Staff Fellow, to investigate homeobox genes—genes which determine when groups of other genes are expressed during embryonic development. In 1996 he established his own laboratory, where he began his work on disorders involving cholesterol.
Recently, he became Acting Head of NICHD's Program in Developmental Endocrinology and Genetics, replacing Constantine A. Stratakis, M.D., who stepped down to become the NICHD's Director of Intramural Research.
Dr. Porter received his MD and PhD degrees from Washington University in St. Louis in 1989, and subsequently trained in Pediatrics and Clinical Genetics at St. Louis Children's Hospital.
###
About the Eunice Kennedy Shriver National Institute of Child Health and Human Development (NICHD)
The NICHD sponsors research on development, before and after birth; maternal, child, and family health; reproductive biology and population issues; and medical rehabilitation. For more information, visit the Institute's Web site at http://www.nichd.nih.gov/.