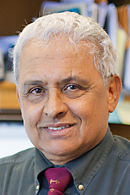 Tonse N. K. Raju, M.D., was named Chief of the Pregnancy and Perinatology Branch (PPB) on August 8, 2013.
Dr. Raju, a board-certified neonatologist, has been a medical officer in the PPB since he joined NICHD in 2002. In that role, he oversaw grants for research, small business programs, and training related to neonatal and perinatal medicine. Among his numerous contributions at the NICHD, Dr. Raju has served as the project scientist for the Community Child Health Network and the Cochrane Neonatal Review Group and the NICHD member on the Federal Steering Committee for the "Surgeon General's Call to Action to Support Breastfeeding." Dr. Raju has also organized many scientific workshops and symposia at the NICHD that have opened new doors for high-impact research on topics such as the risks of late preterm birth.
Prior to his arrival at NICHD, Dr. Raju was Professor of Pediatrics and of Obstetrics and Gynecology at the University of Illinois at Chicago, as well as Associate Director of the Neonatal Intensive Care Unit at the university hospital.
Dr. Raju's research interests encompass many aspects of neonatal care, including neonatal resuscitation, pulmonary surfactants, neonatal encephalopathy, and preterm birth. He has also published books on topics ranging from Nobel laureates in medicine to Indian poetry and proverbs. In December 2012, the NICHD website featured an interview with Dr. Raju, in which he reflected on his career in neonatal medicine and his interest in medical history.