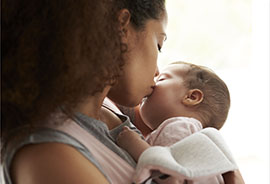 Infants born to mothers in poverty had a greater chance of developing neurological problems within the first year of life, according to a study by researchers at the National Institutes of Health (NIH) and Harvard University.
Researchers analyzed the presence of five immune markers during the third trimester of pregnancy and found that women from socioeconomically disadvantaged backgrounds had lower levels of interleukin-8 (IL-8), an important protein secreted by cells in the immune system. These low levels predicted the presence of neurologic abnormalities among infants when they were examined at four months and again at one year of age.
Background
Researchers analyzed stored serum samples from 1,494 pregnant women who participated in the Collaborative Perinatal Project between 1959 and 1966. The maternal serum samples have been stored in a repository at NIH and made available to epidemiologists and other scientists. As part of the 1960s study, children were tested for neurological impairment at four months of age and again at age 1. At four months old, a pediatric neurologist assessed motor skills and other neurological responses of babies. At a year old, doctors repeated the neurological examination, checking for gait and movement, including the presence of involuntary movement, muscle power, and sensory skills.
Socioeconomic disadvantage was measured by parental education, income in relation to the federal poverty level, and family structure. About 10 percent of the pregnant women in the study were listed as socioeconomically disadvantaged.
The research was supported by NIH grants from the Office for Research on Women's Health; the National Institute of Mental Health; the National Heart, Lung and Blood Institute; and the Eunice Kennedy Shriver National Institute of Child Health and Human Development (NICHD).
Results
Researchers found that a woman's immune system during pregnancy may be affected by financial strain, which can adversely affect offspring's brain development. Investigators link these economic and social barriers to a variation in maternal immune activity during pregnancy. In addition to measuring the cytokine IL-8, they analyzed the presence of four other cytokines (IL-10, IL-1beta, IL-6, and tumor necrosis factor-alpha). These cell proteins can signal inflammation in the body. The only marker to show significant differences was IL-8, which was lower in pregnant women living in poverty, compared to other women, suggesting a dysregulated immune system.
Significance
The findings add to a growing field examining the connection between prenatal stressors and fetal brain development. "We have known that children raised in economically disadvantaged homes face increased risks for health complications as adults," said lead author Stephen Gilman, Sc.D., acting chief of the Health Behavior Branch at NICHD's Division of Intramural Population Health Research. "This study helps identify one of likely many physiologic pathways that contribute to health disparities across generations."
Next steps
Immune system activity is just one of many possible ways to understand the potential impact of prenatal stressors on infant brain development. The study authors call for future studies to assess a broader range of immune markers, as well as markers of other physiologic systems and their sensitivity to different types of environments.
Reference
Gilman SE, Hornig M, Ghassabian A, Hahn J, Cherkerzian S, Albert PS, Buka SL, Goldstein JM. Socioeconomic disadvantage, gestational immune activity, and neurodevelopment in early childhood. Proceedings of the National Academy of Sciences.