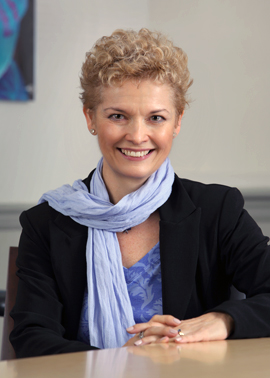 Alan E. Guttmacher, M.D., director of the Eunice Kennedy Shriver National Institute of Child Health and Human Development (NICHD), part of the National Institutes of Health (NIH), announced today that Della M. Hann, Ph.D., has been named NICHD Associate Director for Extramural Research. Dr. Hann joins NICHD from the NIH Office of Extramural Research, where she has served as deputy director since 2010.
"Dr. Hann is an extremely talented leader and NIH research administrator who has developed and implemented numerous extramural policies and scientific initiatives," Dr. Guttmacher said. "Her experience spans programmatic and policy development, strategic planning and evaluation, and NIH policies on grant applications, peer review, and stewardship of awards. Above all, she identifies with the critical importance of NICHD's biomedical and behavioral research  mission and will provide strong leadership for NICHD's extramural research programs."
NICHD's Division of Extramural Research provides funding and training support to academic institutions and other entities conducting research in NICHD's mission areas. Extramural programs focus on demography, social sciences, and population dynamics; fertility and infertility; contraceptive methods; drug safety and efficacy in pregnant women, infants, and children; HIV/AIDS infection and transmission; pediatric growth and endocrine research; child development and behavior; intellectual and developmental disabilities; gynecologic health; medical rehabilitation; and childhood injury. 
The NICHD Associate Director for Extramural Research serves as the NICHD Director's principal advisor on extramural scientific and policy issues.
"I'm very happy to join NICHD and am honored to have been selected for this position," Dr. Hann said.  "I look forward to being part of the institute and helping to advance its many important research programs."
Before her appointment as deputy director of the NIH Office of Extramural Research, Dr. Hann served as director for the Office of Science Policy, Planning, and Communications at NIH's National Institute of Mental Health (NIMH) and as acting director of the Office of Autism Research Coordination at NIMH. In that capacity, she provided leadership and management for the congressionally mandated Interagency Autism Coordinating Committee, which advises the Secretary of Health and Human Services on autism research.
Dr. Hann came to NIH in 1991 to become chief of the Interpersonal and Family Processes Program within the NIMH Behavioral, Cognitive, and Social Sciences Research Branch. During her NIH tenure, she has served as senior policy advisor to the NIH Deputy Director for Extramural Research and as the associate director for Research Training and Scientific Collaborations with the NIMH Division of Mental Disorders, Behavioral Research, and AIDS.
Her many honors and accomplishments include NIH Director's Awards in recognition of exceptional vision and performance, creating the first funding opportunity to support research between NIH grantees, in-house scientists, and the NIH Clinical Center, and for exemplary leadership, dedication, and service in the areas of science policy and communications .
Dr. Hann received her Ph.D. from the University of Tennessee in 1986 in experimental psychology, with an emphasis on issues of early child development. Before coming to NIH, she held a postdoctoral fellowship from the MacArthur Foundation in the Department of Psychiatry at Louisiana State University Medical Center in New Orleans. There, she participated in research related to early socio-emotional development in infants of adolescent mothers.
###
About the Eunice Kennedy Shriver National Institute of Child Health and Human Development (NICHD): The NICHD sponsors research on development, before and after birth; maternal, child, and family health; reproductive biology and population issues; and medical rehabilitation. For more information, visit the Institute's Web site at http://www.nichd.nih.gov/.