NIH-funded study shows promise in developing biomarker-based tool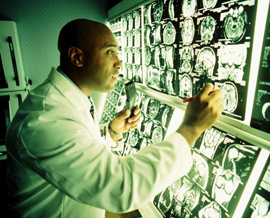 A new blood test could help doctors identify infants who have bleeding in the brain, according to a study by researchers funded by the National Institutes of Health. The test detects substances occurring in the blood after head injury and may one day help doctors identify abuse cases that they might otherwise miss.
The study, published in JAMA Pediatrics

, was conducted by Rachel Berger, M.D., M.P.H., chief of the Child Advocacy Center at Children's Hospital of Pittsburgh and professor of Pediatrics and Clinical and Translational Medicine at the University of Pittsburgh School of Medicine.
Background
Abusive head trauma is the leading cause of death from physical abuse in the United States, according to the study authors. In about 30 percent of cases, physicians fail to diagnose abusive head injury because children do not show any obvious signs or they may have only non-specific symptoms, such as vomiting, said Valerie Maholmes, Ph.D., chief of the Pediatric Trauma and Critical Illness Branch at NIH's Eunice Kennedy Shriver National Institute of Child Health and Human Development (NICHD). Failure to diagnose the injury promptly can lead to further brain damage and even death.
Screening for biomarkers produced in response to a head injury could provide physicians with an important screening tool to help detect head trauma among infants who are brought to the hospital with non-specific symptoms.
Results
NICHD-funded researchers used a testing array to screen blood serum from three separate groups of infants age one month to one year. The first group included 99 infants previously treated for symptoms of possible head trauma (e.g., vomiting and fussiness), half of whom were diagnosed with abusive head trauma. This group was included in the development of an algorithm used to evaluate different blood markers. The second group included 599 infants who were prospectively enrolled at the time they were seeking medical care for similar symptoms. More than 100 of the infants were found to have some type of brain injury. An additional group included 38 infants with rare brain abnormalities, who were not included in the prospective enrollment.
The testing array detects three substances—matrix metallopeptidase-9, neuron-specific enolase, and vascular cellular adhesion molecule-1—that could indicate injury to the brain. The array also measures the blood's hemoglobin, a protein that carries oxygen. A lower hemoglobin concentration could indicate bleeding—either inside the brain or elsewhere in the body.
The researchers calculated a score based on the level of hemoglobin and the other three substances, which they call the Biomarkers for Infant Brain Injury Score (BIBIS). A higher BIBIS suggests a greater likelihood of brain injury and indicates that a child should be referred for brain imaging to confirm the finding. The score is not meant to substitute for a diagnosis of abusive head trauma or to replace a physician's judgement. It is designed to offer additional information to help physicians make decisions when symptoms alone fail to provide enough details.
The researchers assigned each infant a BIBIS after screening. They found that the test correctly detected bleeding in the brain because of abusive head trauma approximately 90 percent of the time, a higher rate than physicians' judgement alone, which the researchers estimate at approximately 70 percent.
Significance
The brain injury score could become an indispensable tool for clinicians, said Dr. Maholmes. "Combined with the physician's judgement, this highly sensitive tool promises to greatly improve diagnosis of infants with abusive head injury," she said.
Next Steps
The researchers said additional studies are necessary to evaluate how physicians can best utilize BIBIS scores in their own practices. 
Reference
Berger, RP, et al. Derivation and Validation of a Serum Biomarker Panel to Identify Infants with Acute Intracranial Hemorrhage JAMA Pediatrics http://jamanetwork.com/journals/jamapediatrics/fullarticle/2614075