Device calibrates MRI scanners to improve image and data quality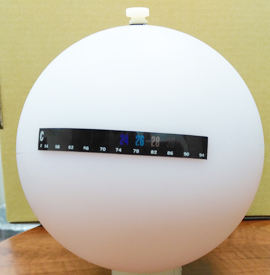 A calibration device for medical imaging developed by researchers at the National Institutes of Health received U.S. Patent approval on March 28, 2017. The device, a diffusion MRI phantom, calibrates magnetic resonance imaging (MRI) scanners to perform diffusion MRI methods, such as diffusion tensor imaging, or DTI. Reliable calibration standards help ensure the quality and accuracy of these images, which can help diagnose stroke, brain disease, and cancer. A patent also can help accelerate development of promising technology so it can reach health care providers and patients more quickly.
Diffusion tensor imaging, pioneered by NIH scientists, relies on the diffusion of water to generate images and allows researchers to make detailed maps of neural pathways in the brain, as well as of the muscles, heart and other soft tissues.
The inventors of the calibration device are Ferenc Horkay, Ph.D., and Peter Basser, Ph.D., both from the Eunice Kennedy Shriver National Institute of Child Health and Human Development (NICHD), and Carlo Pierpaoli, M.D., Ph.D., from the National Institute of Biomedical Imaging and Bioengineering (NIBIB), formerly of NICHD.
The invention uses a substance, polyvinylpyrrolidone, or PVP, to calibrate MRI scanners. PVP is a stable and non-toxic substance used as a food additive. "We designed the phantom for use in a clinical setting," said Dr. Horkay. "The polymer inside the phantom, PVP, has diffusion properties that can be tailored to match those of the target human tissue."
Diffusion tensor imaging visualizes important features of brain anatomy. DTI can aid the diagnosis of many diseases and disorders of the brain, such as stroke and different cancers. Moreover, DTI data provides neurosurgeons with information about the location of sensitive regions of the brain that they need to avoid during brain surgery.
"We and many other researchers are now evaluating whether DTI can be used to diagnose diseases in which changes in brain tissue structure are subtler, such as mild traumatic brain injury," said Dr. Basser. "In these cases, proper scanner calibration is essential to obtain high-quality, quantitative diffusion MRI measurements."
The device had been under continuous development and testing by NIH scientists for nearly a decade, and the properties of PVP as a standard for diffusion MRI measurements have been extensively tested by Dr. Pierpaoli and collaborators in NICHD. Today, many scientific and clinical research groups use PVP-based diffusion MRI phantoms to ensure data quality, primarily for studies performed across multiple sites.
"This invention will help advance quantitative imaging efforts, which are central to the success of accurate clinical diagnoses, as well as support ongoing clinical studies in which volunteers are imaged at different study sites," said Dr. Pierpaoli.
U.S. Patent:
Horkay F, Pierpaoli C, and Basser P. Phantom for Diffusion MRI Imaging. Pat. No. 9,603,546. March 28, 2017
###
About the Eunice Kennedy Shriver National Institute of Child Health and Human Development (NICHD): NICHD conducts and supports research in the United States and throughout the world on fetal, infant and child development; maternal, child and family health; reproductive biology and population issues; and medical rehabilitation. For more information, visit NICHD's website.