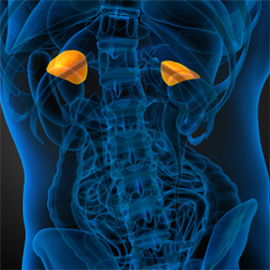 What:
Rare tumors called pheochromocytomas and paragangliomas may cause the same symptoms as attention deficit hyperactivity disorder (ADHD) in children, leading to inappropriate treatment that could worsen their symptoms and potentially endanger their health. That's the conclusion of a new study by National Institutes of Health researchers who evaluated a group of pediatric patients diagnosed with the tumors.
Pheochromocytomas and paragangliomas secrete catecholamines—substances that stimulate the central nervous system. The researchers evaluated 43 children with these tumors from January 2006 to May 2014. Nine of the children (21 percent) had been diagnosed with ADHD before their tumors had been discovered. Four of these nine kids had been treated with stimulant drugs typically prescribed for ADHD (amphetamine, dextroamphetamine or methylphenidate), which caused some to develop headaches, excessive sweating, and hypertension.
After their tumors were removed, three of the nine kids no longer experienced symptoms of ADHD. The study authors suggest that high blood pressure accompanying a diagnosis of ADHD could be a warning sign that the child may have something more than a hyperactivity disorder and that pheochromocytomas and paragangliomas should be on the list of potential causes. The study appears in Hormone and Metabolic Research.
Who:
Maya Lodish, M.D., pediatric endocrinologist in the Division of Intramural Research at NIH's Eunice Kennedy Shriver National Institute of Child Health and Human Development, is available for interviews.
Batsis, Maria, et al., Attention deficit hyperactivity disorder in pediatric patients with pheochromocytoma and paraganglioma

. Hormone and Metabolic Research, 2016.
###
About the Eunice Kennedy Shriver National Institute of Child Health and Human Development (NICHD): The NICHD sponsors research on development, before and after birth; maternal, child, and family health; reproductive biology and population issues; and medical rehabilitation. For more information, visit the Institute's website at http://www.nichd.nih.gov/.  
About the National Institutes of Health (NIH): NIH, the nation's medical research agency, includes 27 Institutes and Centers and is a component of the U.S. Department of Health and Human Services. NIH is the primary federal agency conducting and supporting basic, clinical, and translational medical research, and is investigating the causes, treatments, and cures for both common and rare diseases. For more information about NIH and its programs, visit http://www.nih.gov.