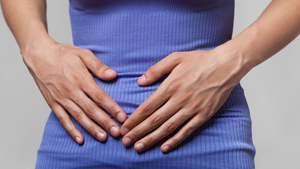 Endometriosis—an often painful gynecologic condition resulting when uterine tissue grows outside of the uterus—may increase the risk for heart disease, according to a study funded by NICHD and the National Cancer Institute.
Although all the women in the study who had endometriosis had an increased risk for heart disease, the highest risk was seen in those who had undergone a hysterectomy and had their ovaries removed. The researchers suggested that women should carefully consider the decision to have a hysterectomy, a procedure often done to relieve the pain of the condition. They added that women who have endometriosis should consider a heart-healthy lifestyle and receive periodic checkups for the early stages of heart disease. The study appears in the May 2016 edition of Circulation: Cardiovascular Quality and Outcomes.
Background
Symptoms of endometriosis include painful menstruation and infertility. Roughly 10 percent of reproductive age women in the United States have the condition. The authors noted that women with endometriosis tend to have an unfavorable cholesterol profile that has been linked to heart disease. Women with endometriosis also tend to have a high level of inflammation, another factor linked to heart disease. Given these risk factors, the authors sought to determine if having endometriosis increases the chances for heart disease.
Results
The researchers analyzed data from the Nurses' Health Study II, which enrolled 116,430 women ages 25 to 42 in 1989. The women provided detailed information about their lifestyles and medical and reproductive histories, updating their health status by responding to detailed questionnaires every 2 years until 2009. By this time, 5,296 were found to have had endometriosis. There were 1,438 cases of coronary heart disease, which the researchers defined as having had either a myocardial infarction (heart attack), angina (chest pain), or heart surgery (coronary artery bypass graft, placement of a stent, or surgical repair or unblocking of a blood vessel in the heart).
Women who had endometriosis were 1.52 times more likely to have had a heart attack as those who did not, 1.91 times more likely to have angina, and 1.35 times more likely to have heart surgery. Women diagnosed with endometriosis at age 40 or younger had the highest combined risk for any of the 3 indicators of coronary heart disease—triple that of women the same age without endometriosis. The risk declined for older women: 1.65 times for those ages 40 to 50 and 1.44 times for women ages 50 to 55. Women who had a hysterectomy with removal of the ovaries had 1.51 times the risk, compared to those who had not undergone the procedure.
Significance
The researchers said that the loss of estrogen likely contributed to the increased risk of heart disease they found among the women in the study. They added, however, that this loss of estrogen only accounted for part of the increase in risk, as endometriosis patients who did not have a hysterectomy still had a greater heart disease risk than women who did not have endometriosis.
The study authors concluded that physicians who care for women with endometriosis might want to discuss with them the possibility of an increased risk for heart disease—particularly those patients diagnosed before age 40. Physicians might also offer their patients periodic heart disease screenings and stress the benefits of a heart-healthy lifestyle.