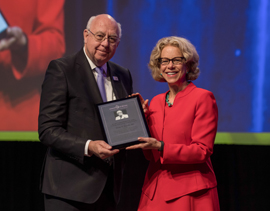 Diana W. Bianchi, M.D., director of the Eunice Kennedy Shriver National Institute of Child Health and Human Development (NICHD), received the March of Dimes Colonel Harland Sanders Award for Lifetime Achievement in the field of genetic science. The award is granted to an individual whose "lifetime body of research, education, or clinical services has made a significant contribution toward the prevention or treatment of birth defects and other genetic disorders," according to a March of Dimes statement.
The award was presented to Dr. Bianchi by Joe Leigh Simpson, M.D., senior vice president for Research and Global Programs at the March of Dimes at the recent annual American College of Medical Genetics and Genomics (ACMG) Clinical Genetics meeting in Arizona.
A medical geneticist and neonatologist, Dr. Bianchi is a pioneer in the field of prenatal genomics. She is known for developing a noninvasive prenatal screening technique that can identify women who are at high risk for having a child with a chromosomal disorder, such as Down syndrome, also called trisomy 21. Women who test positive may be referred for further diagnostic testing. The majority of pregnant women, however, receive negative screening results, and this has resulted in a greatly reduced need for procedures such as amniocentesis and chorionic villus sampling (CVS).
At the ACMG meeting, Dr. Bianchi gave the keynote Presidential address, stating that very rare chromosomal abnormalities can explain false positive results for more common chromosome abnormalities. She presented data that suggest that the rare chromosome abnormalities are present in the placenta, but not the baby, and they are associated with poor fetal growth and an increased risk of miscarriage. Dr. Bianchi also spoke about her continued research at NIH, where she directs a lab at the National Human Genome Research Institute (NHGRI).
Former NHGRI Director, now NIH Director, Francis Collins, M.D., Ph.D., received the March of Dimes Colonel Harland Sanders Lifetime Achievement Award in 2004. 
Prior to coming to NIH, Dr. Bianchi spent 23 years at Tufts Medical Center, where she was the founding Executive Director of the Mother Infant Research Institute, as well as the Natalie V. Zucker Professor of Pediatrics, Obstetrics, and Gynecology at Tufts University School of Medicine.
Dr. Bianchi also has received two other major lifetime achievement awards: The Landmark Award from the American Academy of Pediatrics, which she received in 2015 in recognition of her research and contributions to genetics and newborn care, and the Maureen Andrew Award for Mentoring, given in 2016 by the Society for Pediatric Research in recognition of her commitment to mentoring the next generation of clinician-scientists.
###
About the Eunice Kennedy Shriver National Institute of Child Health and Human Development (NICHD): NICHD conducts and supports research in the United States and throughout the world on fetal, infant and child development; maternal, child and family health; reproductive biology and population issues; and medical rehabilitation. For more information, visit NICHD's website.