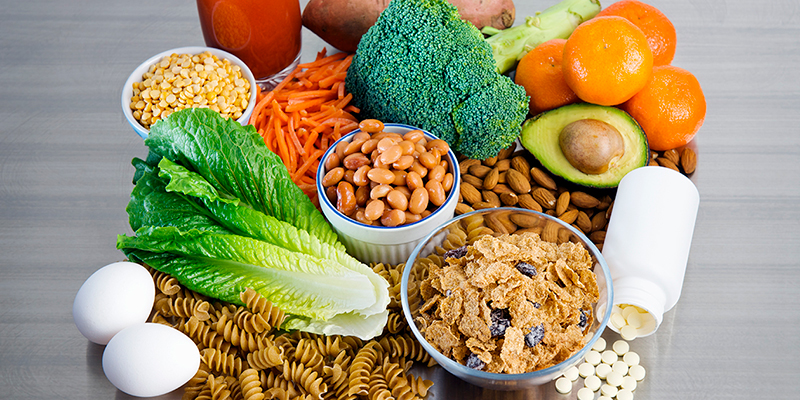 Vegetarian diets during pregnancy are associated with small infant birth weight, but not a higher risk preterm birth or other medical complications, suggests a National Institutes of Health study. The smaller birth size may be attributable to less weight gain during pregnancy. The study appears in the International Journal of Epidemiology.
Researchers examined data on maternal and infant health outcomes from vegetarian diets among nearly 2,000 pregnant women at low risk for health complications. The primary author of the study was Samrawit F. Yisahak, Ph.D., a postdoctoral fellow in the Division of Intramural Population Health Research at NIH's Eunice Kennedy Shriver National Institute of Child Health and Human Development (NICHD).
Background
Previous studies of the general population have found an association between vegetarian diets and lower risk of obesity, diabetes, and cardiovascular disease. The authors noted that information on vegetarian diets during pregnancy is limited. Some studies lacked an appropriate comparison group of pregnant non-vegetarian women, and few were conducted among U.S. women. Others lacked standardized criteria for defining vegetarianism and did not account for individuals who self-identify as vegetarian but still periodically consume meat, chicken, or fish. The authors conducted the current study to understand the potential health implications of vegetarianism during pregnancy.
Researchers analyzed data from NICHD's Fetal Growth Studies, a large, multi-site study designed to establish standards for fetal growth and collect nutritional information from all participants. Of the 99 pregnant women in the study who self-identified as vegetarian, only 22 reported eating full vegetarian diets, which the researchers defined as refraining from meat, chicken, and fish. or restricting intake of these foods to less than once per month.
Results
Full vegetarian diets during pregnancy were associated with infants smaller for their gestational age—the stage of pregnancy at which they were born—compared to those born to women whose diets did not restrict meat, chicken, or fish. However, researchers did not find a higher risk of medical conditions with full vegetarian diets for the women or their infants. Researchers hypothesize that inadequate second-trimester weight gain among pregnant women following a full vegetarian diet may play a role in infants' smaller birth size. The authors said that several aspects of vegetarian diets could be responsible, including inadequate protein from plant sources alone or the low availability of zinc from high-grain diets. Both protein and zinc play important roles in fetal growth.
Significance
The study found associations between maternal vegetarian diets and infant birth size, which may indicate inadequate nutrition during pregnancy and could potentially be associated with adverse outcomes later in life. But researchers cautioned the overall number of babies with medical conditions associated with small gestational size was small, and therefore, more research is needed to detect the potential effects of vegetarian diets during pregnancy.
Reference
Yisahak, S. et al. Vegetarian diets during pregnancy, and maternal and neonatal outcomes. International Journal of Epidemiology. 2020