National repository aims to improve rehabilitation and quality of life for people who have lost a limb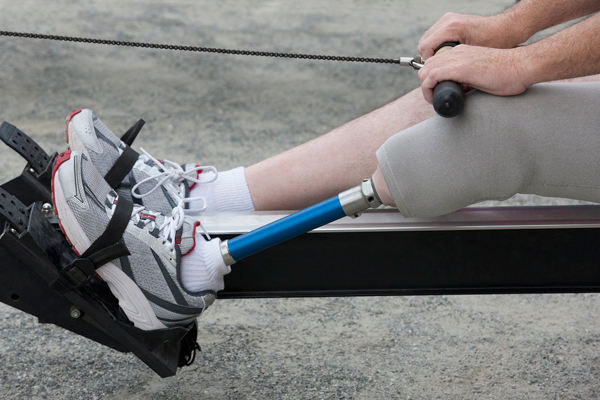 A new database supported by the National Institutes of Health and the Department of Defense aims to establish the number of people in the United States living with limb loss and to provide insight on their challenges and needs. The Limb Loss and Preservation Registry, expected to be operational in 2020 will be the first national registry of people who have lost limbs and promises to collect data that will improve prevention, treatment and rehabilitation efforts for this population.
"The Limb Loss and Preservation Registry addresses a significant public health knowledge gap," said Dr. Alison Cernich, director of the National Center for Medical Rehabilitation Research (NCMRR) within NIH's Eunice Kennedy Shriver National Institute of Child Health and Human Development. "The information housed in this database will be vital to preventing limb loss, improving amputation surgeries, refining rehabilitation approaches and guiding the development of devices for people with limb loss."
NCMRR leads NIH efforts to study recovery and rehabilitation after limb loss. NICHD has awarded a five-year contract, capped at $5 million, to the Mayo Clinic to develop and launch the registry. Registry data will include electronic health records of U.S. adults and children. Researchers studying diseases and conditions that can contribute to limb loss, such as vascular disease and diabetes, will have access to the registry, Dr. Cernich said.
Limb loss also can be caused by a traumatic injury, surgical procedure or through congenital amputation. The registry aims to represent the U.S. population, demographically and geographically. Researchers will be able to sort the data by age, gender and type of limb loss.
NIH is partnering with DoD on developing the registry in an effort to improve the quality of care for active military personnel, veterans and civilian members of the population. According to Dr. Cernich, there aren't enough amputations within DoD alone to provide a sufficiently large sample from which to draw statistically valid conclusions. In addition, data available from DoD and the Department of Veterans Affairs do not include service members who leave the military and seek care in the private sector.
The Limb Loss and Preservation Registry highlights the ongoing coordination and collaboration among federal partners in rehabilitation research.
"The joint effort between federal agencies allows us to collect data that will inform research and improve the lives of all citizens coping with limb loss," Cernich said.
###
About the Eunice Kennedy Shriver National Institute of Child Health and Human Development (NICHD): NICHD conducts and supports research in the United States and throughout the world on fetal, infant and child development; maternal, child and family health; reproductive biology and population issues; and medical rehabilitation. For more information, visit http://www.nichd.nih.gov.
About the National Institutes of Health (NIH): NIH, the nation's medical research agency, includes 27 Institutes and Centers and is a component of the U.S. Department of Health and Human Services. NIH is the primary federal agency conducting and supporting basic, clinical, and translational medical research, and is investigating the causes, treatments, and cures for both common and rare diseases. For more information about NIH and its programs, visit http://www.nih.gov