Findings from NICHD-supported study may aid special education classes across the country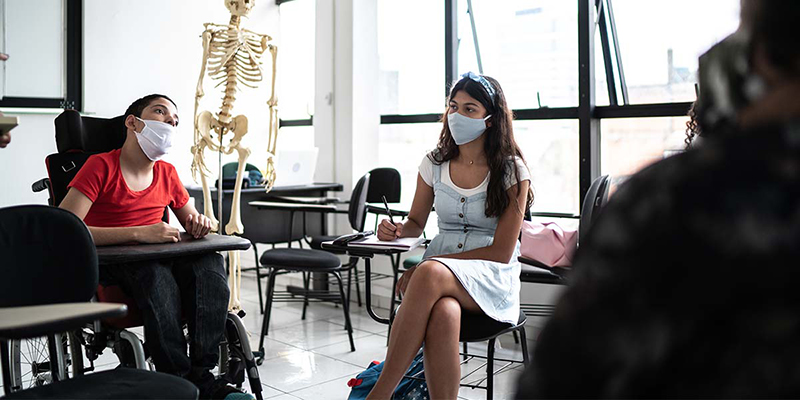 Weekly rapid saliva tests for SARS-CoV-2 may help reduce viral transmission in schools for children with disabilities, according to a study supported by NICHD. Children with intellectual or physical disabilities can have difficulty wearing masks and physically distancing in school. The findings, published in the Journal of Neurodevelopmental Disorders, offer strategies to help schools maximize the safety of in-person learning during the pandemic.
Background
The COVID-19 pandemic has taken a disproportionate toll on people with intellectual and developmental disabilities (IDDs). People with IDDs can be more vulnerable to developing severe disease and complications if they are infected with SARS-CoV-2. Virtual learning also is difficult for children with IDDs and their families. In-person school provides an education, healthcare services, therapy, social and emotional development, and a break for family members and caregivers.
However, educators and families were unsure whether in-person school is safe for students and staff. To help address these concerns, researchers led by Christina Gurnett, M.D., at Washington University in St. Louis partnered with the Special School District of St. Louis County to measure SARS-CoV-2 transmission rates in six schools for children with IDDs.
Results
All students and staff were invited to participate in weekly saliva testing that offered same-day results. The study spanned November 2020 to May 2021 and included the peak of the pandemic in the winter months. During this time, the schools had offered virtual, in-person, and hybrid learning options. A total of 475 participants (416 staff and 59 students) consented to participate in weekly testing, with the goal of reducing transmission by identifying cases as early as possible.
The study team identified 21 new SARS-CoV-2 positive cases—19 cases among staff and 2 among students. Among the positive staff cases, only one incident was directly linked to school transmission and had come from another staff member. The remaining 18 staff cases came from household and community transmissions outside of the school. The researchers were unable to identify the source of the 2 student cases, which could have also come from the community.
Reassuringly, the rates of infection in the six schools were lower than rates seen in the surrounding community. School infection rates ranged from 0% to 1.2% each week. In comparison, rates in the community during that time ranged from 0% to 3.3%, as measured by the BJC Healthcare System in St. Louis.
The study also found that other safety measures likely contributed to these low rates of transmission in schools. Students adhered to mask wearing better than expected, with school staff estimating that up to 70% of students consistently wore masks. The school also reduced classroom sizes to five to eight students and used a phased re-entry plan that transitioned from virtual to full-time, in-person learning. Staff were provided sufficient personal protective equipment (e.g., masks, gloves, and face shields) and riskier group activities, such as potlucks, were cancelled or postponed. Furthermore, the majority of staff and some of the older students received COVID-19 vaccines when they were eligible.
Significance
This study is the first to identify rates of SARS-CoV-2 infection in special education settings. The work provides reassurance that weekly testing and safety measures are effective in protecting staff, children, and their families.
Next Steps
More work is needed to see if the results hold true when viral variants that are easier to transmit, such as Delta, are circulating in the community. There are also more children attending in-person during the 2021 school year, which may limit some safety measures, such as small classroom sizes. The researchers and school system continue to offer weekly testing, encourage vaccination, and adapt safety measures to learn how to keep students and staff safe as the pandemic continues.
Reference
Sherby MR, Walsh TJ, et al., SARS-CoV-2 screening testing in schools for children with intellectual and developmental disabilities. Journal of Neurodevelopmental Disorders DOI: 10.1186/s11689-021-09376-z (2021)