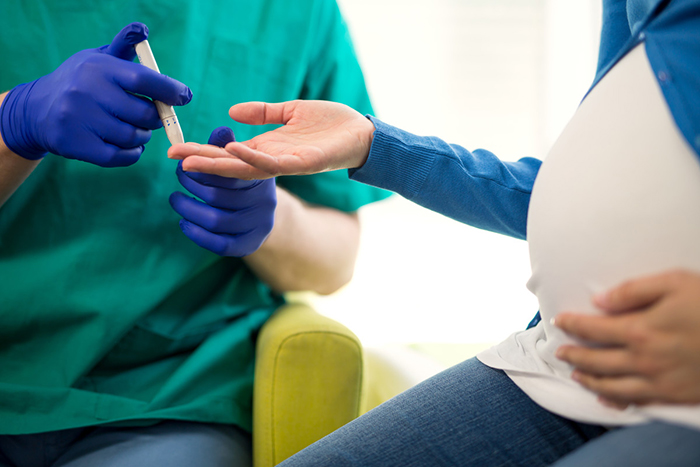 Blood levels of omega-6 fatty acids produced in the body could influence the likelihood of developing gestational diabetes, suggests a study by researchers at the National Institutes of Health and other institutions. However, the researchers found no association with gestational diabetes from consuming foods containing omega-6 fatty acids, such as vegetable oils, nuts, and seeds.
The study also found a link between higher blood levels of omega-3 fatty acids, which are found in fish and flaxseed, and lower blood levels of insulin, but this association does not appear to influence the chances of developing gestational diabetes.
The findings could provide important clues to factors influencing the risk for gestational diabetes and glucose metabolism in pregnancy.
The study was led by Cuilin Zhang, M.D., Ph.D., of the Division of Intramural Population Health Research at NIH's Eunice Kennedy Shriver National Institute of Child Health and Human Development. It appears in PLoS Medicine.
Background
Gestational, or pregnancy-related, diabetes refers to high blood sugar that first occurs during pregnancy. It increases the risk of cesarean delivery, high blood pressure in the mother, and low blood sugar in newborns.
Diets high in polyunsaturated fatty acids, such as omega-3 and omega-6 have been linked to a lower risk of heart disease and type 2 diabetes among non-pregnant women. However, little research has been done on how dietary fatty acids, as well as those produced by metabolic processes in the body, may influence the risk of gestational diabetes and glucose metabolism in pregnancy.
Results
Researchers analyzed data from the NICHD Fetal Growth Study, which recruited more than 2,300 pregnant women from 12 U.S. clinical sites from 2009 to 2013. The study measured blood levels of polunsaturated fatty acids at four different times from early through late pregnancy. In the current study, researchers compared blood levels of omega-3 and omega-6 fatty acids between 107 women with gestational diabetes and 214 women who did not have the condition.
Women with higher levels of omega-3 eicosapentaenoic, docosapentanoic, and docosahexanoic acids tended to have lower levels of insulin and other indicators of insulin resistance. However, their overall levels of omega-3 fatty acids were not linked to the development of gestational diabetes. Similarly, levels of omega-6 fatty acids consumed from foods were not linked to gestational diabetes.
However, some omega-6 fatty acids produced in the body were associated with higher chances of gestational diabetes. These included higher levels in early-to-mid-pregnancy of gamma linolenic acid, dihomo-γ-linolenic acid, and docosatatraenoic acid.
Significance
The findings suggest that research on individual fatty acids circulating in the bloodstream, rather than on combinations of fatty acids consumed in foods, may provide insight on the risk factors for gestational diabetes and on potential ways to prevent it.
Reference
Zhu Y, et al. Plasma phospholipid n-3 and n-6 polyunsaturated fatty acids in relation to cardiometabolic markers and gestational diabetes: A longitudinal study within the prospective NICHD Fetal Growth Studies. PLoS Medicine. 2019.