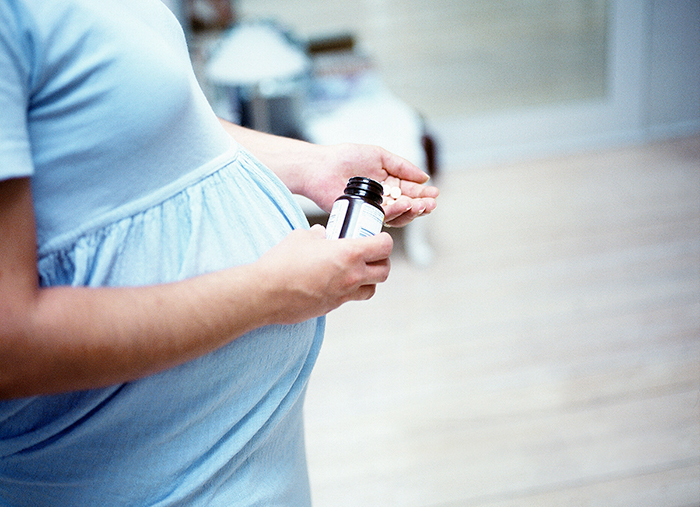 Infants born to mothers taking the drug naltrexone to treat opioid use disorder showed no signs of drug withdrawal and had shorter hospital stays than infants born to mothers undergoing the standard treatment, according to a small study funded by the Eunice Kennedy Shriver National Institute of Child Health and Human Development.
The study was led by Elisha M. Wachman, M.D., of Boston Medical Center. It appears in Clinical Therapeutics.
Background
Opioid use disorder affects approximately 6 out of every 1,000 pregnant women in the United States. It is treated with either buprenorphine or methadone. These drugs can decrease addiction-related craving without creating a high, which helps reduce the risk of drug relapse, overdose, death, pregnancy loss, and preterm birth. However, because these drugs work similarly to other opioids, infants born to women taking them may need to be treated for drug withdrawal, or neonatal abstinence syndrome . Infants undergoing opioid withdrawal may be irritable, have difficulty eating and sleeping, and experience seizures.
A third drug, naltrexone, is used by approximately 11 percent of young adults with opioid use disorder in the United States, but little information is available on its use in pregnant women. Like buprenorphine and methadone, the drug reduces craving. Unlike buprenorphine and methadone, people need to be completely weaned off opioid drugs before starting naltrexone therapy to avoid withdrawal symptoms.
Results
The researchers reviewed patient records of mother and infant pairs in Boston Medical Center's addiction and prenatal care program. The women began treatment before conception and continued it through pregnancy. The study compared results from 6 women treated with naltrexone to those of 13 women treated with buprenorphine.
None of the infants born to mothers taking naltrexone had neonatal abstinence syndrome, compared to 12 (92 percent) in the buprenorphine group. Of the infants in the buprenorphine group with neonatal abstinence syndrome, 6 had symptoms severe enough that they needed treatment. In the naltrexone group, one infant had a minor birth defect involving the kidneys. Infants in the naltrexone group also had a shorter average hospital stay (3.2 days) than those in the buprenorphine group (10.9 days).
Significance
The findings provide important information about a potential treatment for opioid use disorder.
"Our findings support the need for a larger multi-center study examining the long-term safety and efficacy outcomes of naltrexone use among pregnant women," Dr. Wachman said.
Reference
Wachman EM, et al. Naltrexone treatment for pregnant women with opioid use disorder compared with matched buprenorphine control subjects. Clinical Therapeutics. https://doi.org/10.1016/j.clinthera.2019.07.003