Increase comparable to that seen after COVID-19 vaccination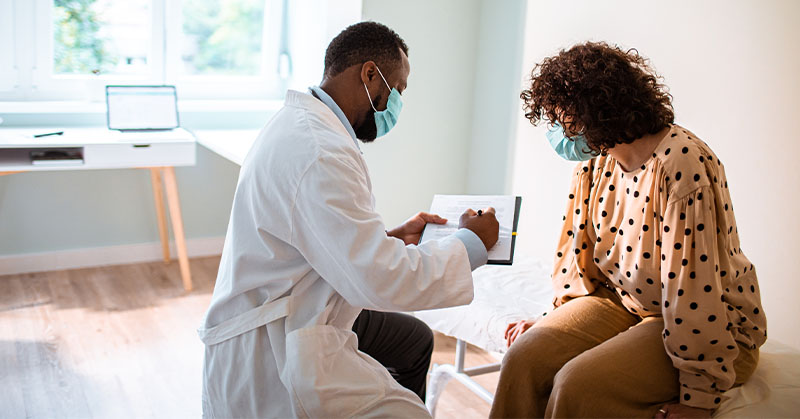 Individuals with COVID-19 may experience a slight increase in menstrual cycle length, comparable to the menstrual cycle increase seen among those who received a COVID-19 vaccine, according to a study funded by the National Institutes of Health. The study authors stressed that the increase was small and temporary.
The study was conducted by Alison Edelman M.D., M.P.H., of the Oregon Health and Science University, and colleagues in the United States, France, United Kingdom, Mexico, and Germany. Funding was provided by NIH's Eunice Kennedy Shriver National Institute of Child Health and Human Development (NICHD). It appears in Obstetrics & Gynecology.
Background
After social media reports of menstrual cycle changes after COVID-19 vaccination, NICHD funded studies to explore potential links between COVID-19 vaccination and menstrual changes. These studies found small but temporary changes in menstrual cycle length after vaccination. However, little information was available on the potential effects of SARS-CoV-2 infection on menstrual cycle.
For the current study, researchers analyzed data from an app in which users enter information on their menstrual cycles and give consent for their anonymized data to be used for research purposes. Users completed surveys on whether they were vaccinated for COVID-19 and whether they had been infected with SARS-CoV-2. More than 6,500 users from 110 countries ages 16 to 45 years old provided their data. Users who reported Long-COVID or who reported irregular cycle lengths prior to COVID-19 disease or vaccination were not included in the study.
Participants were classified into three groups. Those in the control group were unvaccinated and had not had COVID-19. The second group received their first COVID-19 vaccine dose in the first 38 days of their first cycle. Participants in the third group had COVID-19 and were either unvaccinated for 78 days after their first symptoms or remained unvaccinated. For the unvaccinated group, researchers analyzed data from the three cycles immediately before SARS-CoV-2 infection and the two cycles after.
For the vaccinated group, researchers analyzed data for the three cycles preceding vaccination and two cycles after the first dose.
Results
On average, the group with COVID-19 experienced a 1.45-day increase in their cycle after their first symptoms. The vaccinated group experienced a 1.14-day increase in cycle length after their vaccination, which was not significantly different than the first group's increase. The control group had a decrease of .68 days. For the vaccinated and the COVID-19 groups, the increases disappeared during the next cycle.
Significance
The authors concluded that having COVID-19 is associated with a small change in menstrual cycle length similar to COVID-19 vaccination, and both resolve within the next cycle.
"Changes to your menstrual cycle can be concerning and even frightening," said study author Blair Darney, Ph.D., M.P.H., of Oregon Health & Science University. "We want this research to reassure individuals that on a population level, these changes are not typically a cause for concern."
Reference
Alvergne, A, et al. Association between menstrual cycle length, coronavirus disease 2019 (COVID-19), and vaccination. Obstetrics & Gynecology. 2023.