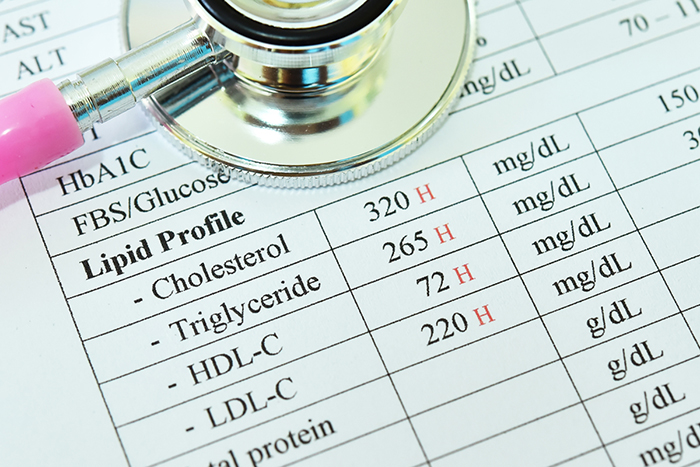 A high genetic risk score for cholesterol and other blood lipids among pregnant women is linked to fetal weight, but varies according to the mother's racial and ethnic group and obesity status, suggests an analysis by researchers at the Eunice Kennedy Shriver National Institute of Child Health and Human Development (NICHD), part of the National Institutes of Health.
The findings are a step toward understanding how a mother's genes for the blood lipids that influence the risk for heart disease could influence the growth and, potentially, the future health of her fetus.
The study was led by Fasil Tekola-Ayele, Ph.D., of the Epidemiology Branch of NICHD's Division of Intramural Population Health Research. It appears in the Journal of Clinical Lipidology.
Background
Infants of smaller- or larger-than-normal birth size may face a higher risk of diabetes, obesity, cardiovascular disease, and certain cancers as adults, the study authors wrote.
Previous studies have indicated that a mother's lipid levels may influence fetal growth and birth weight, while other studies have found that maternal gene variants for certain lipids are associated with infant birth weight. However, the authors are unaware of any studies that have examined the potential effects of maternal lipid gene variants on fetal growth. For the current study, the researchers looked at whether having a high genetic risk score—a large proportion of gene variants associated with unfavorable lipid levels—is associated with differences in fetal growth.
Results
The researchers analyzed records and ultrasound scans from more than 2,800 women in the NICHD Fetal Growth Study. Using blood samples, the researchers collected data on the women's gene variants associated with total cholesterol, high density lipoprotein cholesterol, low density lipoprotein cholesterol, and triglycerides. For each group of genes, a woman was assigned a genetic risk score—a rating based on the number of gene variants associated with unfavorable levels of each lipid category.
Among normal weight white women, for each unit increase in triglyceride genetic risk score—a unit corresponding to one copy of an unfavorable gene variant—average weight of the fetus increased by 11.4 grams at 40 weeks of pregnancy. For obese black women, a unit increase in triglycerides was linked to a 26.3 gram increase in fetal weight. For obese Hispanic women, a unit increase led to an average 30.8 gram increase in fetal weight.
A higher genetic risk score for high density lipoprotein was associated with higher fetal weight from 36 to 40 weeks among white women at normal weight and from 13 to 20 weeks among Asian women at normal weight, but led to lower fetal weight from 26 to 40 weeks among normal-weight Hispanics.
Significance
The researchers concluded that high maternal lipid genetic risk scores were associated with fetal weight, but varied by racial and ethnic group and the mother's obesity status. The findings suggest that maternal genetic risk scores could play a role in forecasting fetal weight gain and have implications for a child's future health status.
Reference
Ouidir M, et al. Race–ethnic differences in the associations of maternal lipid trait genetic risk scores with longitudinal fetal growth. Journal of Clinical Lipidology. 2019. https://doi.org/10.1016/j.jacl.2019.06.007 .