Study seeks to determine if exposure poses a risk for neural tube defects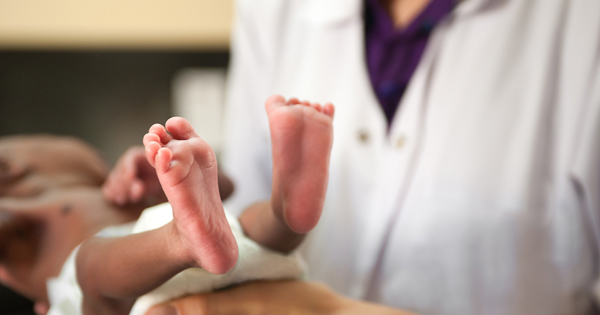 The National Institutes of Health has extended funding for an existing birth outcomes surveillance study conducted in Botswana, Africa. The study began in 2014 and captures birth outcomes of women with HIV and HIV-negative women. The study's goals are to determine whether drugs prescribed to treat HIV infection, as well as prevent perinatal transmission of the virus, increase the risk of developing birth defects called neural tube defects. The study (R01HD080471) is funded through NIH's Eunice Kennedy Shriver National Institute of Child Health and Human Development (NICHD) and led by Roger Shapiro, M.D., M.P.H., of the Harvard T.H. Chan School of Public Health.
On May 18, 2018, public health organizations and regulatory agencies issued statements and interim guidance in response to preliminary, unpublished data from the researchers that suggested a potential link between neural tube defects and dolutegravir, an antiretroviral drug, if the drug was taken around the time of conception. No such risk was observed when the drug was taken after conception.
In the study's preliminary analysis, now available at the New England Journal of Medicine , infants born to women with HIV who took dolutegravir before they became pregnant had a higher rate of neural tube defects. The rate of neural tube defects was approximately:
0.9 percent (4 out of 426) for infants born to women taking dolutegravir
0.1 percent (14 out of 11,300) for infants born to women taking other types of antiretroviral drugs
The researchers are continuing to monitor pregnancies, and approximately 600 more births from women who took dolutegravir around the time of conception are expected by February 2019. Outcomes from these additional births will provide more information about the drug's safety.
The additional funding from NICHD will extend the study for 5 more years. The researchers also will add 10 delivery centers/hospitals to their study, increasing the birth surveillance from approximately 45 percent of all deliveries in Botswana to 70 percent of all deliveries. Increased enrollment will enable the study team to obtain data from more women who will become pregnant while taking antiretroviral drugs.
Contact
Rohan Hazra, M.D., chief of NICHD's Maternal and Pediatric Infectious Disease Branch
Additional Resources
###
About the Eunice Kennedy Shriver National Institute of Child Health and Human Development (NICHD): NICHD conducts and supports research in the United States and throughout the world on fetal, infant and child development; maternal, child and family health; reproductive biology and population issues; and medical rehabilitation. For more information, visit NICHD's website.
About the National Institutes of Health (NIH): NIH, the nation's medical research agency, includes 27 Institutes and Centers and is a component of the U.S. Department of Health and Human Services. NIH is the primary federal agency conducting and supporting basic, clinical, and translational medical research, and is investigating the causes, treatments, and cures for both common and rare diseases. For more information about NIH and its programs, visit http://www.nih.gov.