Participants less likely to require visits from child protective services, need emergency medical care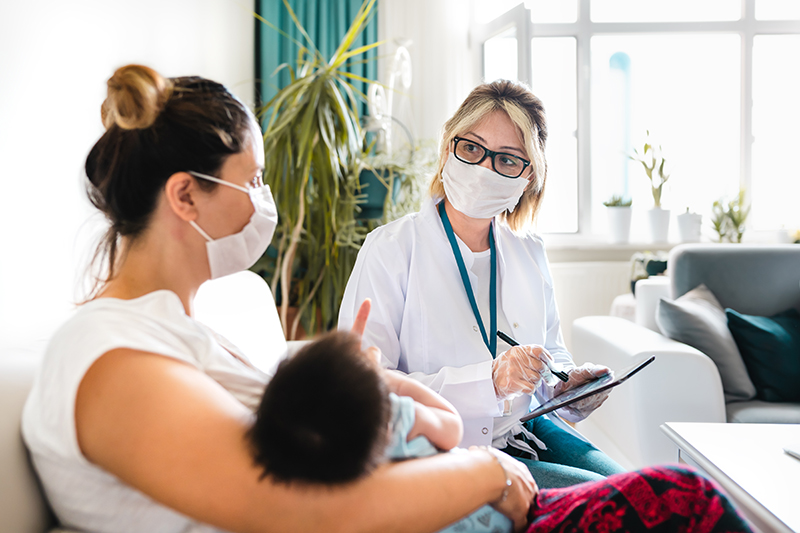 A program providing new parents with one to three home visits from a nurse soon after the birth of a child was associated with 39% fewer child protective service investigations for maltreatment through age five, compared to parents who received usual newborn services, according to a study funded by the National Institutes of Health. Families receiving the visits also had 33% fewer emergency department visits.
The visiting nurse program features instruction for parents on how to feed infants, manage infant crying, and other aspects of infant health. Nurses also screen parents' mental health and availability of social and emotional support.
The study, conducted by Kenneth A. Dodge, Ph.D., with colleagues at Duke University, appears in JAMA Network Open. NIH funding was provided by the Eunice Kennedy Shriver National Institute of Child Health and Human Development.
Background
According to the Administration for Children and Families, part of the U.S. Department of Health and Human Services, the youngest children (PDF 5 MB) are the most vulnerable to maltreatment. Children in their first year of life have the highest rate of child abuse victimization. Research
indicates that children account for 28 million emergency department visits each year, and these visits may represent a risk factor for, and a health consequence of, child maltreatment.
Family Connects is a newborn screening and resource referral program that arranges for one to three home visits for new parents from trained nurses when the baby is about three weeks old. During visits, nurses educate parents on infant care and assess infant and maternal health needs, parenting and childcare plans, and such aspects of parent well being as mental health, substance use and availability of social and emotional support. The visiting nurses also refer families to appropriate community resources, such as childcare agencies, mental health counseling, social services, and long-term programs such as Early Head Start.
For the current study, families of 4,777 infants born in Durham County, North Carolina, were assigned at random to receive the nurse visits or usual hospital services for newborns in 2009 and 2010. Of these, a subsample of 531 children was selected at random for evaluation: 260 in the visiting nurse group and 271 in the usual services group. Researchers reviewed subsequent hospital and child protective services records for 5 years after the children's births.
Results
A total of 46 out of 260 children in the Family Connects group (almost 18%) were the subject of 1 or more child protective services investigations before age 5. For the usual services group, 59 out of 271 (almost 22%) were the subject of an investigation. A total of 151 of 260 children (58.1%) in the Family Connects group had required emergency medical care, compared to 193 of 271 children (71.2%) in the usual services group. The researchers estimated that children whose families participated in Family Connects experienced 39% fewer average investigations for suspected child abuse and 33% fewer emergency department visits in the first five years of life, compared to children in the usual services group.
Significance
The authors said their findings suggest that a program of brief nurse home visits soon after birth can have benefits into early childhood, reducing rates of child maltreatment and use of emergency medical care.
Reference
Goodman, WB, et al. Effect of a universal postpartum nurse home visiting program on child maltreatment and emergency medical care at 5 years of age: a randomized clinical trial. JAMA Network Open. 2021. DOI:10.1001/jamanetworkopen.2021.16024.