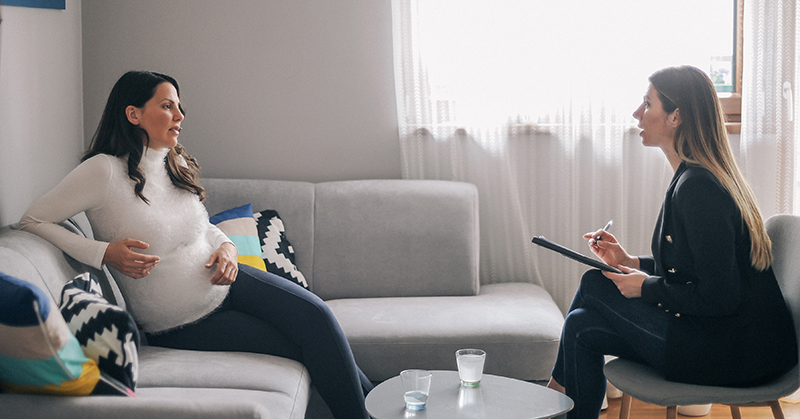 Depression from six weeks gestation through the end of pregnancy may increase the risk of heart and blood vessel disease up to two years after birth, suggests an analysis funded by the National Institutes of Health.
Researchers analyzing health insurance claims from nearly 120,000 pregnancies found that those with prenatal depression had higher risks for ischemic heart disease (decreased blood flow to the heart due to narrowed blood vessels), arrythmia and cardiac arrest (irregular heartbeat leading to sudden stop in heartbeat), cardiomyopathy (heart muscle that has difficulty pumping blood), and high blood pressure, compared to pregnant people without depression.
The study was conducted by Katherine Ahrens, Ph.D., of the University of Southern Maine, and colleagues. It appears in the Journal of the American Heart Association. Funding was provided by NIH's Eunice Kennedy Shriver National Institute of Child Health and Human Development.
Background
Cardiovascular disease accounts for one in three pregnancy-related deaths. Although depression is associated with cardiovascular disease in non-pregnant people, the role of prenatal depression in pregnancy-associated cardiovascular disease has been understudied.
For the current study, researchers analyzed pregnancy claims in a health insurance database from the state of Maine for deliveries from 2007 to 2019. They classified depression as prenatal if it was diagnosed from six weeks gestation through the delivery date. The authors statistically compensated for other factors known to raise heart disease risk, such as depression, hypertension or diabetes before pregnancy, obesity, or smoking.
Results
Within two years after pregnancy, those with prenatal depression had an 83% higher risk of ischemic heart disease, a 60% higher risk of arrhythmia or cardiac arrest, a 61% higher risk of cardiomyopathy, and a 32% higher risk of hypertension, compared to pregnant individuals without depression.
Significance
One potential explanation for the findings is that depression leads to inflammation of the blood vessels, which is known to precede ischemic heart disease. Another explanation is that depression may lead to inactivity, also known to contribute to cardiovascular disease. The authors added that information on cardiovascular disease occurring after prenatal depression could help inform screening and prevention efforts for the condition.
Reference
Ackerman-Banks, CM. et al. Association of prenatal depression with new cardiovascular disease within 24 months postpartum. Journal of the American Heart Association. 2023. DOI: 10.1161/JAHA.122.028133