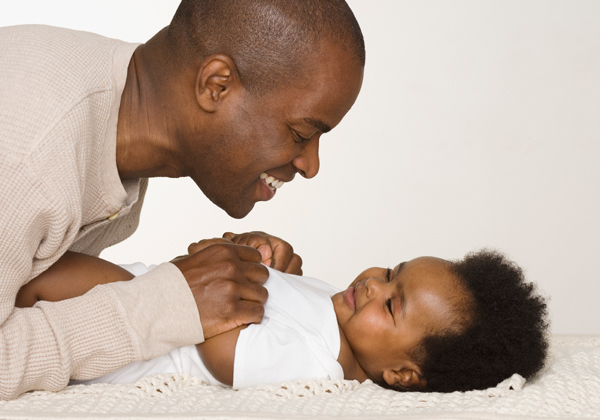 As part of NICHD's continued partnership with the Kappa Alpha Psi Fraternity®, Inc. , the NICHD-led Safe to Sleep® campaign recently launched a mini-grant program to support fraternity members in conducting safe infant sleep outreach. The mini-grants will enable Kappa members to lead and host activities in their communities, where they can share safe infant sleep messages in culturally sensitive ways. This partnership, established in 2015, focuses on fathers and the unique role they can play in reducing the risk of Sudden Infant Death Syndrome (SIDS) and other sleep-related causes of infant death, such as suffocation.
SIDS is the sudden, unexplained death of a baby younger than 1 year of age that doesn't have a known cause even after a full investigation. It is the leading cause of death in babies one month to one year of age. The Centers for Disease Control and Prevention estimates that 3,500 infants in the United States die each year from sleep-related causes, including SIDS. African American babies are twice as likely as white babies and more than three times as likely as Hispanic infants to die from SIDS.
Kappa Alpha Psi has more than 125,000 members and 700 U.S. undergraduate and alumni chapters, as well as international chapters in Nigeria, South Africa, the West Indies, the United Kingdom, Germany, South Korea, and Japan.
"Fathers, uncles, brothers, sons—men in our communities can really make a difference in reversing these trends," said Thomas L. Battles, Jr., Kappa Alpha Psi Grand Polemarch. "We have educated thousands of Kappa brothers and families about saving babies' lives. These mini-grants will allow our brothers to go into their communities to share these important messages with others nationwide."
Following a competitive process, NICHD/Kappa awarded 55 mini-grants across the United States to undergraduate and alumni chapters of Kappa Alpha Psi and to members of the Silhouettes, the wives and widows of Kappa members. Grantees receive up to $1,000 to conduct safe infant sleep educational activities, with a focus on efforts in states with the highest SIDS rates—this focus is a key component of the ongoing partnership.
"Babies are safest when everyone in the household knows how to reduce the risk of SIDS and other sleep-related causes of death," said Lorena Kaplan, M.P.H., CHES, who leads Safe to Sleep® activities for NICHD. "As fathers spend more time caring for babies, Kappa members play a crucial role in sharing potentially life-saving information with these caregivers."
Local Kappa organizations will also hold workshops that feature educational videos, talks by healthcare providers, and visual displays of safe-sleep environments.
Grant recipients are encouraged to personalize their efforts to address the specific needs of their communities. For example, in a community that has had a sleep-related infant death, activities might focus on recommendations to avoid placing or feeding babies on couches and armchairs. Many grantees are also collaborating with local churches, schools, police departments, municipal governments, healthcare organizations, and community groups to further extend their reach in the community. Grantees will collect surveys, track publications, and gather other information to help refine the activities and measure success.
Some examples of planned mini-grantee activities include:
Events for fathers and grandfathers at six community churches, the University of Cincinnati, and Xavier University campuses, hosted by the Cincinnati (Ohio) Alumni Chapter
An event for pregnant teens and new teen mothers living in a homeless shelter, conducted by the Bowie/Mitchellville (Maryland) Silhouettes Chapter
A workshop at Kent State University for college students and other young people, conducted by the Kent (Ohio) Chapter
An event aimed at filling the gap left by the closure of a local clinic that served uninsured women and children, hosted by the Gary (Indiana) Chapter
A workshop hosted by Silhouettes of Houston (Texas) that is part of Hurricane Harvey recovery efforts
The Kappa and Silhouette activities began on Father's Day and will continue throughout the summer. For more information regarding partnerships for educational events with Kappa and Silhouette chapters around the country, please contact the Global Infant Safe Sleep Center at 731-616-5098.
To learn more about the Safe to Sleep® campaign and ways to reduce the risk of SIDS and other sleep-related causes of infant death, visit http://safetosleep.nichd.nih.gov.