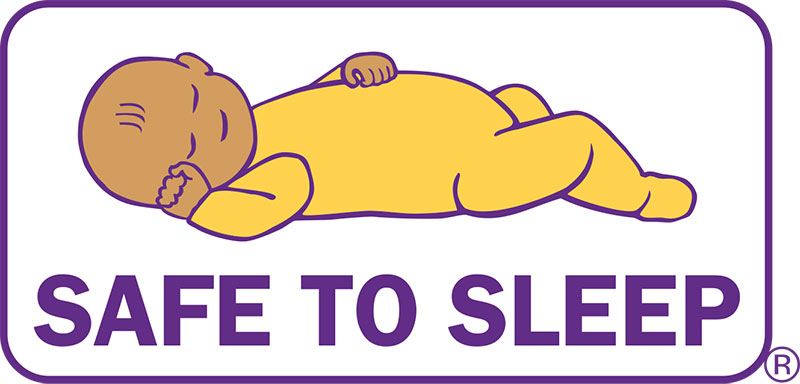 The Safe to Sleep® campaign, a national effort to raise awareness about ways to reduce the risk of Sudden Infant Death Syndrome (SIDS) and other sleep-related infant deaths, is updating the campaign's messages to reflect revised recommendations for safe infant sleep issued by the American Academy of Pediatrics (AAP). The updates ensure that parents and caregivers have the latest information about evidence-based risk-reduction strategies.
The Eunice Kennedy Shriver National Institute of Child Health and Human Development (NICHD), part of the National Institutes of Health, leads Safe to Sleep® in collaboration with the AAP, First Candle, and other agencies and organizations. The campaign encourages everyone who cares for infants younger than 1 year of age—including parents, grandparents, family members, childcare providers, and health care providers—to learn about the updated recommendations for safe infant sleep.
The primary recommendations—placing babies on their backs to sleep for naps and at night; keeping loose and soft items, such as blankets and stuffed animals, out of the sleep area; sharing a room with baby for at least the first 6 months; and breastfeeding—remain unchanged from previous versions.
New or revised recommendations include making sure the sleep surface is firm, flat, and not inclined or tilted; using a pacifier for sleep once baby is breastfeeding well; and avoiding swaddling after baby can turn over, usually around three months of age. In addition, the recommendations provide new information about risky situations, such as having baby sleep alone or with others on a couch, sharing an adult bed with baby, sleeping in a sitting device (such as a car seat), and using positioners and similar products in baby's sleep area. The report also emphasizes the importance of "tummy time," placing awake infants on their tummies while they are supervised by an adult, to promote infant development and minimize positional plagiocephaly (development of a flat spot on the back of the head), as well as routine vaccinations and healthcare visits.
AAP's revised recommendations on safe infant sleep are at available at https://doi.org/10.1542/peds.2022-057991
.
"Keeping infants safe during sleep is a complex topic," notes Marion Koso-Thomas, M.D., NICHD medical officer and scientific advisor on the Safe to Sleep® campaign. "Federally supported research on SIDS, infant physiology, genetic risk factors, and caregiver behavior helps to inform risk-reduction strategies and save infant lives."
The Safe to Sleep® campaign offers free materials, a social media toolkit, an interactive room tool, and other ways to help caregivers learn about safe infant sleep.
*Visit the Consumer Product Safety Commission website for more information about crib safety: http://www.cpsc.gov/en/Safety-Education/Safety-Guides/Kids-and-Babies/Cribs/.
Safe to Sleep® is a registered trademark of the U.S. Department of Health and Human Services.
###
About the Eunice Kennedy Shriver National Institute of Child Health and Human Development (NICHD): NICHD leads research and training to understand human development, improve reproductive health, enhance the lives of children and adolescents, and optimize abilities for all. For more information, visit https://www.nichd.nih.gov.