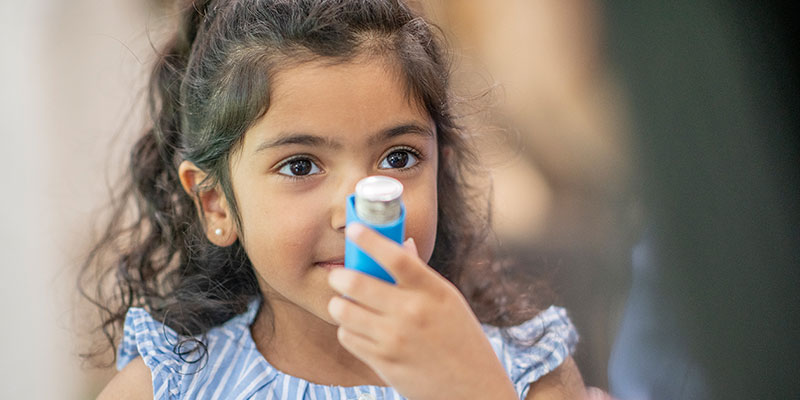 Maternal obesity before pregnancy may increase the risk of asthma in early childhood, suggests a study by the National Institutes of Health. Children born to mothers with obesity were more likely than those born to mothers without obesity to have persistent wheezing, an indication of asthma. Maternal weight gain during pregnancy was not associated with persistent wheezing in children.
The research team was led by Kristen J. Polinski, Ph.D., a postdoctoral fellow in the epidemiology branch of NIH's Eunice Kennedy Shriver National Institute of Child Health and Human Development. The study appears in Annals of Allergy, Asthma & Immunology.
Background
Roughly 30% of reproductive-age women in the United States have obesity, the study authors wrote. Another 47% gain too much weight during pregnancy. Because obesity is characterized by low-grade inflammation, an immune reaction, some researchers have theorized that maternal obesity may affect the immune system of the fetus and increase the risk for allergic conditions. For the current study, researchers sought to determine whether pre-pregnancy obesity and weight gain during pregnancy could increase the risk for allergic conditions like asthma, skin allergy (eczema), and food allergy.
Researchers analyzed data on the pregnancies, births, and early childhoods of nearly 6,000 children. When the children were 8 to 36 months old, and again at ages 7 to 9, their mothers responded periodically to survey questions about whether the children wheezed or were diagnosed with eczema or allergies to any foods, medicines, dust, animals, or pollen.
Results
Children born to mothers with obesity before pregnancy were 58% to 69% more likely to have persistent wheeze by 3 years old, compared to children born to women without obesity before pregnancy. The researchers did not find any statistically significant differences in asthma rates for children at ages 7 through 9. Similarly, higher weight gain during pregnancy was not associated with persistent wheeze in early childhood or asthma in middle childhood. Pre-pregnancy obesity was not associated with an increase in any other allergic conditions.
Significance
To confirm their findings, the researchers called for additional studies of children whose asthma was diagnosed by a physician rather than a study relying on parental responses to survey questions.
Reference
Polinski KJ, et al. Maternal obesity, gestational weight gain and offspring asthma and atopy. Annals of Allergy, Asthma & Immunology. 2022. https://doi.org/10.1016/j.anai.2022.04.032