Parental involvement may discourage binging and prevent later alcohol-related risk behaviors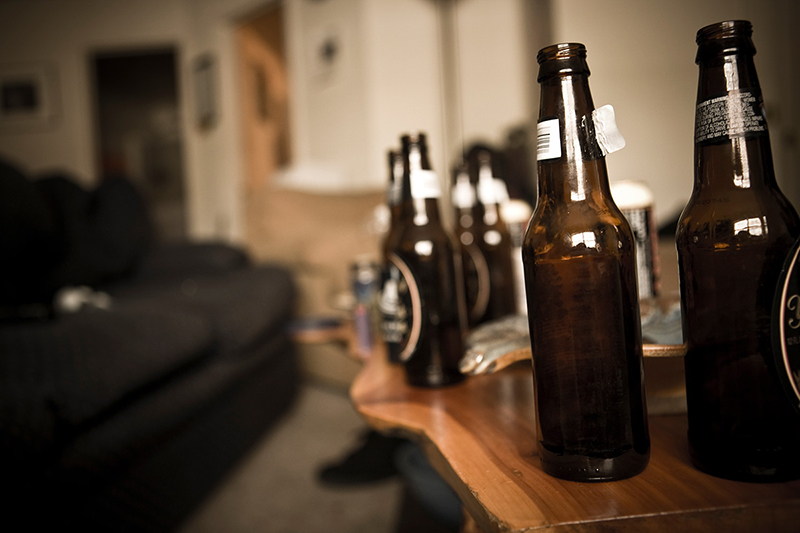 Four years after high school, adolescents who were binge drinkers during their senior year were more likely than non-binge drinkers to drive while impaired, to ride with an impaired driver, to black out from alcohol, to extreme binge drink, and to engage in risky driving practices, according to a study by researchers at the National Institutes of Health and other institutions.
Adolescents whose parents were more involved in their lives during their senior year had lower rates of driving while impaired and riding with an impaired driver four years after high school.
The study was led by Bruce Simons-Morton, Ed.D., of the Social and Behavioral Sciences Branch at NIH's Eunice Kennedy Shriver National Institute of Child Health and Human Development. It appears in Pediatrics.
Background
Binge drinking consists of 5 to 9 drinks at a single occasion for males and 4 to 7 drinks for females. Extreme binge drinking refers to drinking far beyond these thresholds, usually at 10 or more drinks for males and 8 or more for females. The study authors noted previous research that found the number of fatal crashes involving drivers 15 to 20 years old increased from 4,352 in 2015 to 4,514 in 2016. In crashes in which the driver died, 24% were alcohol related and in 82% of these, the driver had a blood alcohol concentration indicative of binge drinking—at or above .08 grams per deciliter.
In the current study, researchers analyzed data from the NEXT Generation Health Study, which surveyed nearly 3,000 youth in the United States, beginning in 2009 to 2010, when they were in 10th grade, and again each year for six more years. Participants responded to questions about their health and behaviors.
Results
Compared to participants who never binged on alcohol, those who did were nearly twice as likely to report four years later that they had driven while impaired (having drank alcohol or used marijuana or illicit drugs). Similarly, four years later, 12th grade binge drinkers were more than two and a half times as likely to ride in a vehicle with a driver who was impaired, three times more likely to have blacked out, twice as likely to have engaged in extreme binge drinking, and nearly twice as likely to have engaged in risky driving (speeding and other unsafe driving behaviors).
Participants also rated their parents' monitoring knowledge: whether their parents knew who their friends were, how they spent their money, what they did after school, and where they went after school and at night. Compared to participants whose fathers had low monitoring knowledge when their teens were in 10th grade, participants whose fathers had high monitoring knowledge were 10% less likely to have driven while impaired and 20% less likely to have ridden in a vehicle with an impaired driver.
Significance
The study authors conclude that programs seeking to prevent unsafe driving behaviors may benefit from identifying and discouraging binge drinking among high schoolers.
Reference
Vaca, FE, et al. Longitudinal associations of 12th-grade binge drinking with risky driving and high-risk drinking. Pediatrics. 2020.