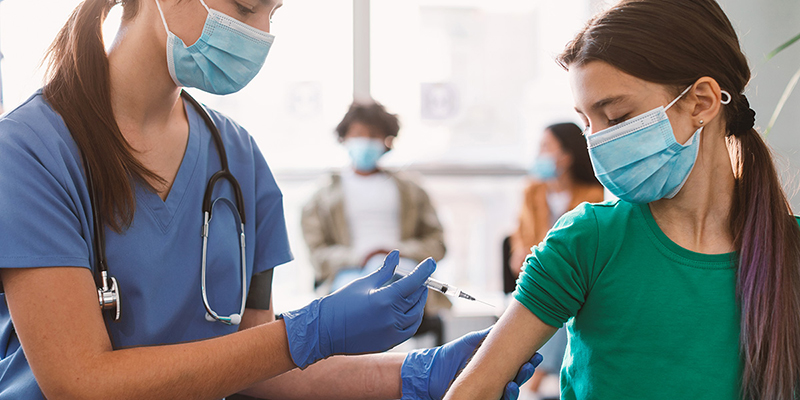 Vaccination against COVID-19 appears to be safe for children who have had multisystem inflammatory syndrome in children (MIS-C) and does not appear to increase the risk for inflammation of the heart or other organs, suggests a small study funded by the National Institutes of Health. MIS-C, a serious inflammation of the heart, lungs, kidneys, brain, skin, eyes, gastrointestinal organs or other body parts, occurs in children about 4 to 6 weeks after COVID-19.
The study was conducted by Matthew Wisniewski, M.S.N., at Texas Children's Hospital, and colleagues in the United States and Italy. Appearing as a letter in JAMA Network Open, the study was funded as part of the PreVAIL kIds initiative led by NIH's Eunice Kennedy Shriver National Institute of Child Health and Human Development (NICHD).
Background
Most children infected with SARS-CoV-2, the virus that causes COVID-19, develop only mild or no symptoms. However, a very small proportion of children go on to develop MIS-C from 4 to 6 weeks after infection. MIS-C is not well understood, and some researchers have raised concerns that vaccines to prevent COVID-19 might trigger severe inflammation or bring a return of MIS-C in children who previously had the condition.
Researchers analyzed the medical records of 15 patients who developed MIS-C after having COVID-19 and who were subsequently vaccinated. Patients ranged from 12 to 18 years with an average age of 14.4 years.
Results
At the time the researchers submitted their findings for publication, the patients had gone, on average, about 6 months after completing vaccination without developing severe inflammation, inflammation of the heart, or re-occurrence of MIS-C.
Significance
The authors noted that their study included only a small number of patients because MIS-C is a rare condition. They added, however, that results of their limited sample suggest that vaccinating children who have had MIS-C against SARS-CoV-2 could lower their risk for developing another case of COVID-19 without increasing their risk for re-occurrence of MIS-C or serious inflammation.
Reference
Wisniewski, M, et al. Outcomes after SARS-CoV-2 vaccination among children with a history of multisystem inflammatory syndrome. JAMA Network Open. 2022. doi:10.1001/jamanetworkopen.2022.4750