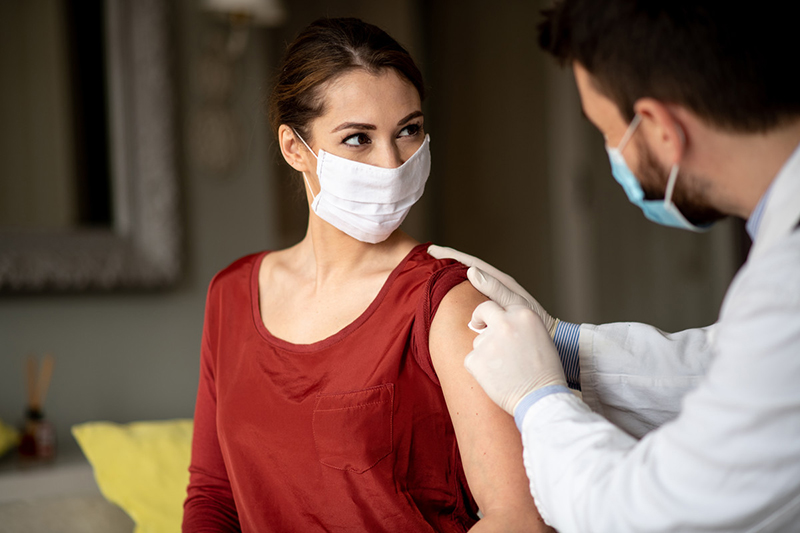 Compared to unvaccinated women, women vaccinated for COVID-19 have a slightly higher risk of a heavier period after vaccination, suggests a study funded by the National Institutes of Health. However, flow returns to normal in the next menstrual period.
The study was led by Blair G. Darney, Ph.D., and Alison Edelman, M.D., of Oregon Health & Science University, and colleagues at other institutions. It appears in BJOG: An International Journal of Obstetrics and Gynecology. Funding was provided by NIH's Eunice Kennedy Shriver National Institute of Child Health and Human Development (NICHD) and Office of Research on Women's Health as part of $1.67 million awarded to five institutions to explore potential links between COVID-19 vaccination and menstrual changes.
Background
Previous research by the authors found a link between COVID-19 vaccination and a temporary increase in menstrual cycle length, but no change in the duration of the menstrual period (bleeding).
Researchers analyzed de-identified menstrual cycle data from the fertility tracking app, Natural Cycles. App users reported daily bleeding quantity as "spotting", "light", "medium", or "heavy." The authors categorized variations in the monthly cycle as "less bleeding," "no change," or "more bleeding." The dataset included mainly individuals from the United States, Canada, the United Kingdom, and Europe.
A total of 9,555 people contributed data (7,401 vaccinated, 2,154 unvaccinated).
Results
About two thirds reported no change in the number of heavy bleeding days regardless of vaccination status. There were no significant differences in the number of heavy bleeding days between those who were vaccinated and unvaccinated.
However, a larger proportion of vaccinated individuals reported an increase in total bleeding quantity: 38.4% vs. 34.5%. This translated to roughly 40 people per 1,000 experiencing more total bleeding after the first vaccine dose. Differences between the groups resolved in the next cycle.
Significance
The authors concluded their findings continue to validate experiences shared by the public and provide reassurance that if changes in flow occur with vaccination, they are likely to be small and temporary.
Reference
Darney, B. et al. Impact of Coronavirus disease 2019 (COVID-19) vaccination on menstrual bleeding quantity: an observational cohort study. BJOG: An International Journal of Obstetrics & Gynaecology.