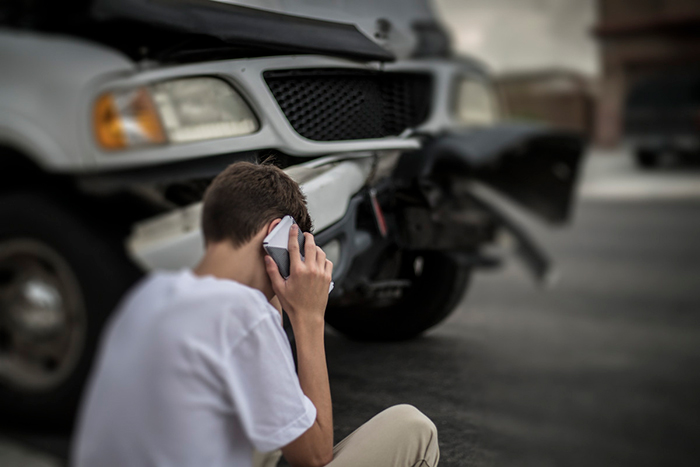 Teens with a learner's permit who had regular, behind-the-wheel practice sessions had a lower crash risk in the year after they obtained their driver's license, compared to teens who practiced less frequently, according to a study by researchers at the Eunice Kennedy Shriver National Institute of Child Health and Human Development (NICHD) and other institutions.
The researchers believe that the errors made during pre-licensing practice sessions may have created opportunities for parents to teach their teens safer driving practices and thereby helped to reduce their future crash risk. The research team was by Bruce Simons-Morton, Ed.D., a senior investigator in NICHD's Social and Behavioral Sciences Branch. The study appears in JAMA Pediatrics.
Background
According to the U.S. Centers for Disease Control and Prevention, all states have graduated licensing systems to help new drivers gain skills under lower risk conditions. These typically involve progression through a learner's permit, to an intermediate, or provisional, license, before an unrestricted license is granted. The learner period is intended to provide the opportunity for extended practice sessions for the new driver, when parents can accompany teens and help them prepare for safe independent driving.
The authors noted, however, that little is known about how the practice sessions may influence later driving. They undertook the current study to learn more about which elements of the learner practice period might influence safety during the first year after the issuance of an unrestricted license.
Researchers enrolled youth ages 15 to 16 who had obtained a learner's permit within the previous three weeks. The vehicles they drove were fitted with a computer that received information from accelerometers, a global positioning system, and video cameras that had been installed in the car. Data were collected for all drivers during the learning period through the first year after they received an unrestricted license.
Results
A total of 82 youth completed the study. Participants drove an average of more than 1,200 miles and an average of 89 days during the learner period. There were 49 total crashes during the study period.
Youth who engaged in regular, more frequent practice sessions during the learner period had a 39% lower crash risk in the first year after receiving their permanent licenses, compared to youth who practiced less frequently.
Compared to youth who made errors less frequently, youth who made more driving errors during the learning period had a 56% longer time before their first crash and a 54% lower crash risk in the first year after receiving their license. Errors included not paying attention, being distracted by a cell phone, driving too fast for conditions, tailgating, running red lights, and poor control of the vehicle.
Significance
The study results suggest that frequent driving practice lowers crash risk among teen drivers. Assuming these findings are confirmed, state driver licensing requirements could be revised to include more frequent practice sessions. The authors added that cell phone technology that tracks vehicle speed, acceleration, and maneuvering could be used to monitor teens in the year after they receive their licenses, so that parents can provide them with further instruction.
Reference
Ehsani, JP, et al. Learner driver experience and teenager's crash risk during the first year of independent driving. JAMA Pediatrics. 2020