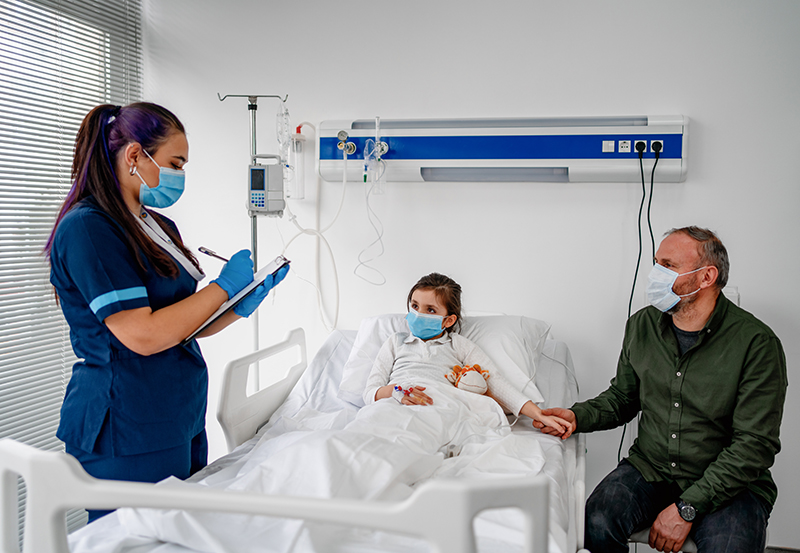 Serious complications from a rare childhood condition linked to COVID-19 infection appear to have decreased as SARS-CoV-2 evolved from 2020 to 2022, suggests a study funded by the National Institutes of Health. The condition, called multisystem inflammatory syndrome in children (MIS-C), inflames different body parts, including the heart, lungs, kidneys, brain, skin, eyes, or gastrointestinal organs. The authors noted, however, that while the proportion of those with severe complications has dropped, 37% of children hospitalized with MIS-C needed intensive care. The authors called for more research on MIS-C, to distinguish it from a similar-appearing rare inflammatory condition, Kawasaki disease, so that treatment could be more closely targeted to each condition.
The study was conducted by Cedric Manlhiot, Ph.D., of Johns Hopkins University and colleagues at other institutions in the United States and Canada. It appears as a letter in the New England Journal of Medicine. Funding was provided through NIH's Predicting Viral-Associated Inflammatory Disease Severity in Children with Laboratory Diagnostics and Artificial Intelligence (PreVAIL kIds) initiative.
Background
MIS-C usually occurs 2 to 6 weeks after a child is infected with SARS-CoV-2. The condition may occur even after a very mild infection or after no symptoms at all. Although MIS-C can be very serious, or even fatal, most children with the condition recover with medical care. The condition is similar to Kawasaki disease, a rare condition which also includes swelling of internal organs. The evolution of new variants of SARS-CoV-2 have influenced the spread of COVID-19, but little is known about how the different variants may have influenced the severity of MIS-C cases.
Researchers analyzed data from 2017 patients diagnosed with MIS-C from April 2020 through June 2022.
Results
Children hospitalized early in the pandemic, when the original and alpha strains were prevalent, were more likely to have severe respiratory problems and coronary artery dilatation—a widening of the main artery supplying the heart. The condition slows blood flow to the heart, sometimes causing chest pain and a higher risk of blood clots.
Compared to patients with MIS-C during the early pandemic, patients with MIS-C when the delta and omicron variants were prevalent had a lower risk of such complications as irregular heartbeat, cardiac arrest (sudden loss of all heart activity), blood clots, or loss of clotting ability. Although serious complications decreased over time, complications were still pronounced during the omicron period, with 23% of patients hospitalized for shock and 37% admitted to an intensive care unit.
Significance
The authors concluded that more research is needed to distinguish between MIS-C and similar childhood inflammatory conditions like Kawasaki disease, so that more appropriate treatments could be developed for each condition.
Reference
McCrindle, BW, et al. SARS-CoV-2 variants and multisystem inflammatory syndrome in children. The New England Journal of Medicine. 2023.