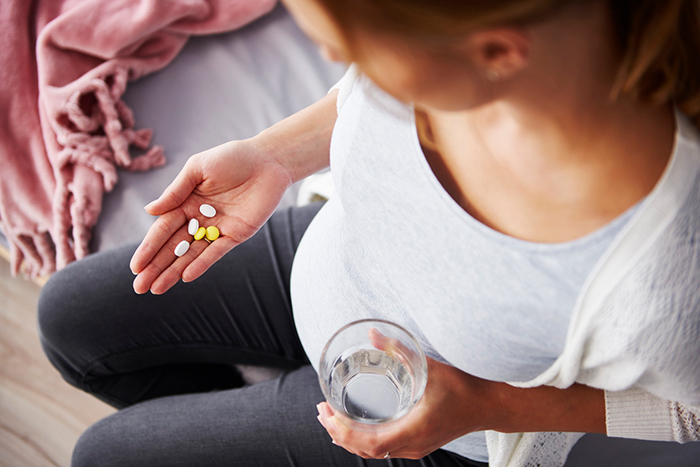 HIV-free children whose mothers started taking anti-HIV medications while they were in the womb may be at higher risk for lower-than-average scores in one or more areas of development at age 5, according to a study supported by the National Institutes of Health. Risk for a developmental delay was lower in children whose mothers began an antiretroviral regimen before getting pregnant, compared to those whose mothers began treatment while pregnant. For children whose mothers began treatment while pregnant, risk was even higher for children whose mothers took regimens containing the drug atazanavir, compared to regimens that did not. The authors say the findings underscore the need to monitor the neurodevelopment of children who do not have HIV but whose mothers took antiretrovirals during pregnancy. They also called for more studies on the timing of children's first exposure to antiretroviral treatments during pregnancy.
The study was conducted by Tzy-Jyun Yao, Ph.D., and colleagues in the Pediatric HIV/AIDS Cohort Study, which is funded by NIH's Eunice Kennedy Shriver National Institute of Child Health and Human Development (NICHD), National Institute of Dental and Craniofacial Research, National Institute of Allergy and Infectious Diseases, National Institute of Neurological Disorders and Stroke, National Institute on Deafness and Other Communication Disorders, National Institute of Mental Health, National Institute on Drug Abuse, National Cancer Institute, National Heart, Lung, and Blood Institute, and the NIH Office of the Director. It appears in AIDS patient Care and STDS.
Background
Antiretroviral therapy has been extremely successful in reducing the number of children born with HIV, the authors noted. In 2020, there were approximately 15.4 million children under 15 years of age worldwide who were exposed to HIV during pregnancy but who do not have HIV. The antiretroviral drugs that greatly reduce the chances of pregnant women transmitting the virus to their children during pregnancy are known to cross the placenta. Based on studies in humans and primates, researchers are concerned that antiretroviral treatment during pregnancy could increase the chances for neurodevelopmental effects, such as language and cognitive delays and behavioral challenges. However, results of previous studies are mixed, with only some finding neurodevelopmental risk or delays.
The authors added that the developing fetal brain is susceptible to a variety of environmental influences. They added that it is often difficult to determine whether developmental delay in children without HIV whose mothers were treated with antiretroviral therapy during pregnancy are due to the therapy or other factors, such as poor parental health, substance use, or insufficient oxygen and nutrition.
Most previous studies of exposure to antiretroviral therapy in the uterus among children without HIV have evaluated only individual areas of neurodevelopment, such as language or cognition. However, it's possible that exposure to antiretroviral therapy could affect multiple areas of development at the same time.
For the current study, investigators evaluated potential effects of the therapy on three domains: language, emotional-behavioral development, and cognition. Children at 17 clinical sites in the United States were assessed by psychologists at 5 years of age. Researchers compared exposure to regimens with atazanavir—linked by some studies to language and social and emotional delays—to combinations that did not include atazanavir. They also looked at whether these effects were different for children whose mothers were receiving antiretroviral therapy before they got pregnant, compared to those whose mothers began treatment after they got pregnant.
Results
Of the 230 children whose mothers were already receiving treatment when they became pregnant, 15% had lower scores in one developmental domain and 8% had challenges in at least two of the three developmental domains. However, of the 461 children whose mothers began therapy during pregnancy, 21% had a delay in one developmental domain and 12% demonstrated delays in at least two of the three developmental domains.
Among children whose mothers started treatment during pregnancy, those whose mothers' regimens included atazanavir had a 70% greater chance of having one or more developmental lags, compared to children of mothers on other regimens. However, researchers did not observe this increased risk associated with atazanavir among children whose mothers were already on antiretroviral therapy when they became pregnant.
Significance
The authors said that their study is the first to identify the potential risk across multiple neurodevelopmental domains among HIV-free children born to mothers receiving antiretroviral treatment during pregnancy. Many previous studies evaluated only very young children, whose problems may not have been readily apparent at a young age. The current study detected increased developmental risk at five years, a critical age when young children often initiate formal schooling.
The authors stressed that it is very important for prospective mothers with HIV to take antiretroviral therapy during pregnancy to prevent HIV transmission to the baby. However, the authors concluded that their study highlights the need to periodically assess children exposed to antiretroviral therapy in the womb so that delays can be identified early when opportunities for support and intervention are greatest. The authors added that for people living with HIV who are aware of their HIV status and could become pregnant, it is especially important to be on antiretroviral therapy to help protect the health of the fetus in case they do become pregnant.
Reference
Yao, TJ, et al. In utero antiretroviral exposure and risk of neurodevelopmental problems in HIV-exposed uninfected 5-year-old children. AIDS Patient Care and STDs. 2023.