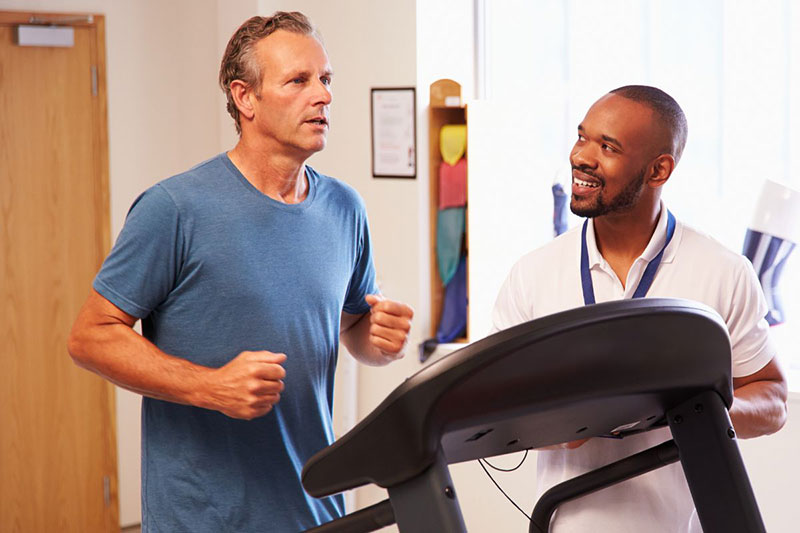 A program with intervals of high-intensity walking promotes greater gains in fitness for stroke patients than the currently recommended program of moderate-intensity walking, suggests a study funded by the National Institutes of Health. The study enrolled chronic stroke patients—those at least six months past their stroke—often considered more difficult to rehabilitate than recent stroke patients.
The study was conducted by a team of researchers led by Pierce Boyne, PT, DPT, Ph.D., at the University of Cincinnati. It appears in JAMA Neurology and was funded by NIH's Eunice Kennedy Shriver National Institute of Child Health and Human Development (NICHD), National Center for Advancing Translational Sciences, and National Institute on Aging.
Background
Most stroke survivors regain the ability to walk without assistance, but they often lack the ability to achieve a functional walking speed that allows them to resume normal activities. Previous studies of treadmill training have found that moderate-intensity aerobic training leads to improved walking speed and better cardiovascular capacity. Moderate-intensity aerobic training consists of walking at a moderate pace, between 40 and 60% of the heart rate reserve—defined as the maximum heart rate minus the resting heart rate.
For the current study, researchers compared high-intensity interval training—training at greater than 60% of the heart rate reserve for prespecified intervals—to moderate aerobic intensity training.
A total of 55 stroke survivors took part in the study. Of these, about half were randomized to moderate-intensity aerobic training—continuous walking at roughly 40% of the heart rate reserve, increasing by 5% every two weeks until they reached 60% of the heart rate reserve. The remainder were assigned to high-intensity interval training—walking at 30-second bursts at a heart rate reserve above 60%, alternated with 30 to 60 seconds of standing or seated rest.
The authors tested how far participants in each group could walk in six minutes after 4, 8, and 12 weeks of training.
Results
After 4 weeks, the high-intensity group walked an average of 27 meters and the moderate aerobic activity group walked 12 meters. After 8 weeks, the high-intensity group had improved to 58 meters, while the moderate-activity group improved by 29 meters. After 12 weeks, the high-intensity participants were still improving, going 71 meters further, while the moderate group leveled off at 27 meters.
Significance
The authors concluded that their study provides evidence that intensity is an important aspect of walking rehabilitation and that higher intensity training can be tolerated by chronic stroke patients and produce even greater gains than moderate-intensity training.
"This moderate-intensity protocol was not like a placebo group," Dr. Boyne said in a podcast
accompanying the article. "This is the active best practice and current recommendation for improving walking capacity after stroke. What we're seeing is that this newer method appears to be meaningfully better than what is currently the best practice."
Next Steps
Dr. Boyne said he hopes to conduct a larger trial to verify the current study's results.
Reference
Boyne, P. et al. Optimal intensity and duration of walking rehabilitation in patients with chronic stroke: a randomized clinical trial. JAMA Neurology. 2023.