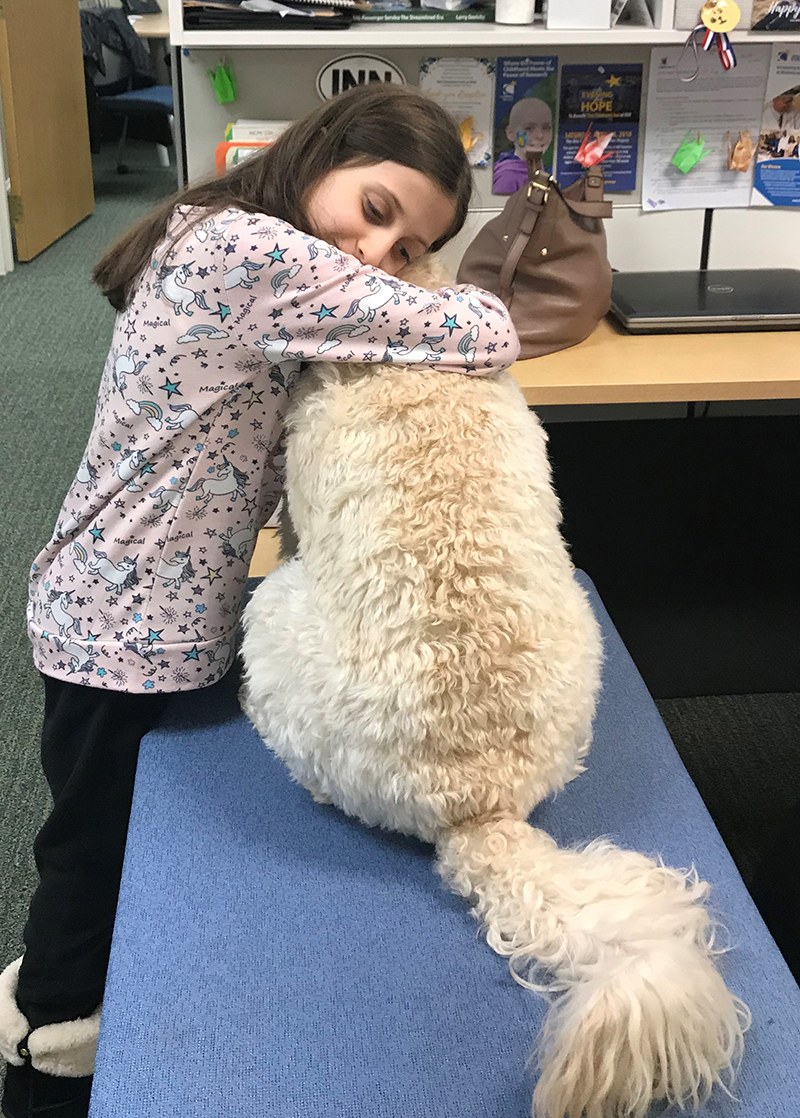 Lina El Zein has been bringing her three young children to NIH from Dubai to participate in a research study since 2018. The 14-hour flight is long, and the treatments challenging, but a welcome from a special friend at The Children's Inn at NIH has made the visits far more enjoyable. The Children's Inn is a nonprofit Place Like Home for seriously ill children who come from around the world and across the country to participate in groundbreaking medical treatments as part of research studies at NIH.
"Zilly works her magic," the mom said.
Zilly, the Inn's curly haired therapy dog, helped motivate Lina's daughter Luana, 9, to get back on her feet after surgery last year. Doctors encouraged Luana to start walking to boost her recovery, but the pain was intense. That's when a visit from Zilly became the best medicine. Luana couldn't resist walking to see Zilly, tail wagging and always glad to see her. Each visit became a little easier, and the walking a little better. Her youngest son, Jude, had an extreme anxiety of dogs before coming to the NIH. Now, during the long flight, he counts down to Zilly time.
"Anecdotes like these are plentiful, but research has been sparse," said James A. Griffin, Ph.D., Acting Chief of the Child Development and Behavior Branch in NICHD's Division of Extramural Research.
Sparse until 10 years ago, when NICHD and the WALTHAM® PetCare Science Institute
, a division of Mars, launched a partnership to support research
exploring the impact of interactions between animals and their human companions. Griffin and colleagues at NICHD, along with Waltham researchers, recently published summaries highlighting more than a dozen advances in the field they established
, called Human-Animal Interaction (HAI). The Children's Inn got its first therapy dog, Viola, or Vi, as she was quickly nicknamed, through this partnership.
"HAI had never been systematically studied before," Griffin said. "We had a lot of stories, but no real evidence. We didn't know how pets and animals impacted child development."
Funding opportunities from the partnership launched multiple studies of pets with participants ranging in age from infants to adolescents to young adults. The studies also aimed to measure the impact of therapy animals, so they included people with physical and intellectual disabilities and those in need of medical rehabilitation. To understand the full range of effects, the research incorporated a variety of animals—dogs, horses, cats, guinea pigs, and fish.
Most importantly, the research utilized robust and quantifiable measurements and tools, such as testing blood cortisol levels to assess stress and monitoring heartbeat and breathing rate to evaluate individual differences during interactions with animals. Griffith noted that these methods and measurements were critical to building the field of HAI and proving the effects are more than just anecdotes.
Some highlights from the partnership's studies include the following:
The partnership's research will continue to explore and evaluate interactions with animals and the impact of these interactions on child development. The researchers also recommend incorporating video data sharing into future projects, based on the success of the Databrary, a platform through which researchers archive and share video data. This data library, partially funded by NICHD and the National Science Foundation, improves researchers' ability to replicate study measures and to accelerate scientific discoveries.
Lina notes that there are plenty of video clips of her children playing with Zilly at The Children's Inn, and she'd be happy to share them. "Having Zilly around helps them just be kids," she said.