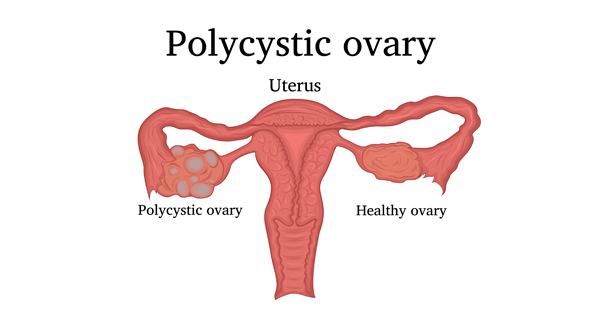 Hormonal changes in women with polycystic ovary syndrome (PCOS), a common condition that contributes to infertility, may alter their intestinal microbe populations, according to a study funded by the Eunice Kennedy Shriver National Institute of Child Health and Human Development (NICHD), part of the National Institutes of Health. The researchers found that the higher the women's levels of testosterone and similar hormones known as androgens, the less diverse their gut microbiomes tended to be. These findings may mean that androgens could influence the gut microbiome and that higher androgen levels could potentially play a role in the development of PCOS. Moreover, treatments to increase microbial diversity in the gut potentially could help treat the condition.
The study appeared recently in the Journal of Clinical Endocrinology and Metabolism. It was conducted by researchers at the University of California, San Diego; San Diego State University; and the Poznan University of Medical Science in Poland.
Background
PCOS is a disorder that affects 5 to 15 percent of women worldwide. Women with PCOS are typically diagnosed with at least two of three conditions: higher androgen levels, irregular menstrual periods, or cysts (fluid filled sacs) on one or both ovaries. Along with infertility, women with PCOS are at higher risk for miscarriage and pregnancy complications, as well as obesity, Type 2 diabetes, and cardiovascular disease.
A microbiome is the bacteria, viruses, and other microbes that inhabit the skin, mouth, gut, or other parts of the body. Studies have shown that people with obesity and diabetes have gut microbiomes that differ from people without these conditions. Previous research also has suggested that women with PCOS have gut microbiomes with fewer species than women without the condition and that a PCOS mouse model with high androgen levels also had less diversity in their gut microbiomes. Based on the results of these studies, the authors set out to determine if androgen levels and other symptoms of women with PCOS might be related to changes in their gut microbiomes.
Results
The researchers compared microbiome samples from 73 women with PCOS to those of 48 women who did not have PCOS and to those of 42 women who had polycystic ovaries but none of the other symptoms of PCOS. They found that the women with PCOS had the least diverse gut microbiomes of the three groups. Women with polycystic ovaries but no other PCOS symptoms had greater microbial diversity than women with PCOS, but less microbial diversity than women who did not have any hallmarks of the condition. Testosterone levels and overall androgen levels also correlated with microbial diversity—the higher a woman's levels of these hormones, the less diverse her gut microbiome was likely to be.
Significance
"Our findings suggest testosterone and other androgen hormones may help shape the gut microbiome in women," said the study's senior author, Varykina Thackray, Ph.D., of the University of California, San Diego. "Additional research is needed to determine whether specific gut bacterial species contribute to the pathology of PCOS and whether the microbiome offers potential pathways for treating this disorder."
Reference
Torres, PJ, et al. Gut microbial diversity in women with polycystic ovary syndrome correlates with hyperandrogenism. Journal of Clinical Endocrinology and Metabolism. DOI: 10.1210/jc.2017-02153