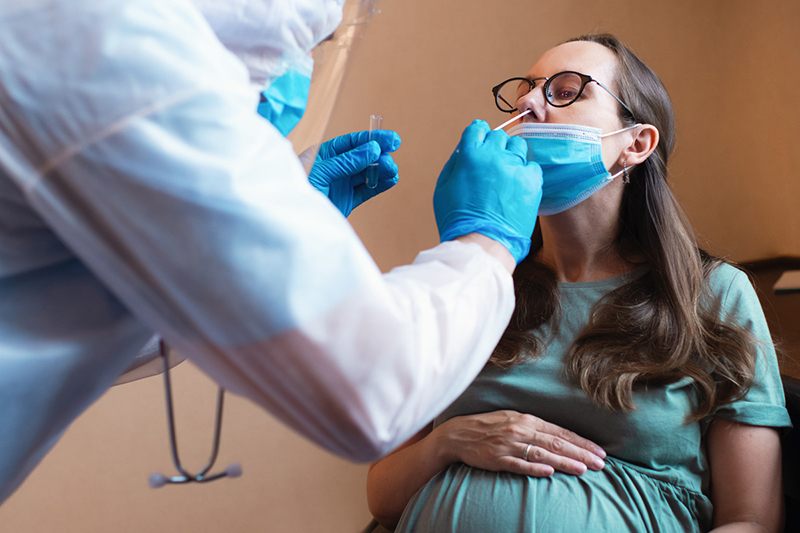 Infants born during the pandemic—regardless of whether their mothers had COVID-19 during pregnancy—scored slightly lower on certain tests of neurodevelopment at 6 months old, compared to a similar group of infants born before the pandemic, according to a study funded by the National Institutes of Health. The findings suggest that children born during the pandemic may need long-term monitoring to rapidly identify any future lags in development. The researchers theorized that maternal stress resulting from the pandemic could have effects on children's neurodevelopment.
The study was conducted by co-first authors Lauren C. Shuffrey, Ph.D., and Morgan Firestein, Ph.D., of Columbia University Irving Medical Center, and colleagues. It appears in JAMA Pediatrics. Funding was provided in part by NIH's Eunice Kennedy Shriver National Institute of Child Health and Human Development.
Background
The exact number is unknown, but millions of infants are estimated to have been exposed to SARS-CoV-2 in the womb, the study authors wrote. It is rare for SARS-CoV-2 to pass from mother to fetus. However, studies of other viral infections during pregnancy suggest that infection of the fetus may not be needed for the fetus to be affected. These studies indicated that the mother's immune response to a virus may affect the fetus. For example, studies of maternal infection with viruses related to SARS-CoV-2, as well as other viruses, have linked the mother's immune response to neurodevelopmental effects in offspring.
Researchers in the current study analyzed data from 255 children born between March and December 2020 in New York City during the first wave of COVID-19. Of these, 114 were born to mothers with COVID-19 during their pregnancies and 141 were born to mothers who tested negative for SARS-CoV-2. When the infants were six months old, they were evaluated with the Ages & Stages Questionnaire 3rd Edition, a developmental screen commonly used by pediatricians to assess the progress of young children. Their scores were also compared to those of 62 children born at the same medical center during the three years prior to the pandemic.
Results
The researchers found no significant differences between the two groups of infants born during the pandemic. However, compared to children born before the pandemic, these infants had slightly lower scores on measures of gross motor skills, fine motor skills, and social skills. The lowest scores were seen for those infants whose mothers were in their first trimester at the height of the pandemic in New York City.
Significance
The authors noted that previous studies of maternal stress during pregnancy have been linked to neurodevelopmental effects in offspring. They theorized that COVID-19-related stress could contribute to the lower scores among children born during the pandemic.
Next Steps
The authors stated that their findings suggest that children born during the pandemic might benefit from long-term monitoring for potential neurodevelopmental delays, so that they could be offered appropriate interventions, if necessary.
Reference
Shuffrey, LC, et al. Association of birth during the COVID-19 pandemic with neurodevelopmental status at 6 months in infants with and without in utero exposure to maternal SARS-CoV-2 infection. JAMA Pediatrics. 2022.