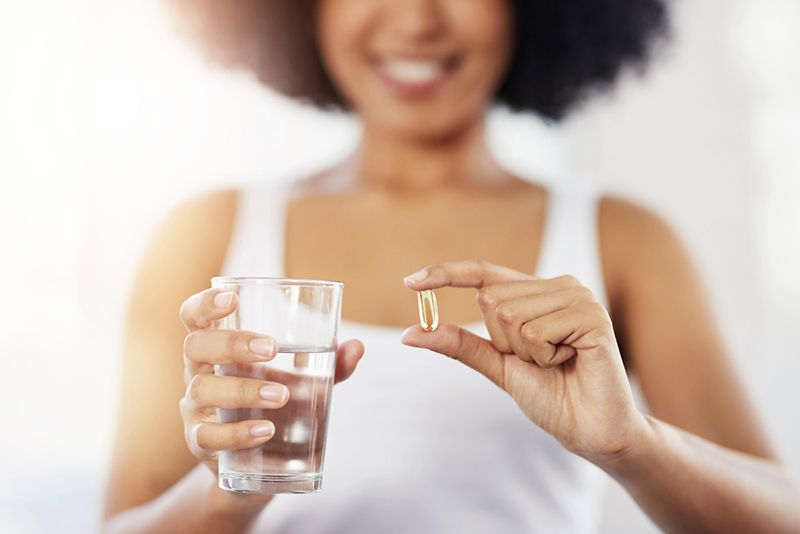 Taking supplemental docosahexaenoic acid (DHA)—an omega-3 fatty acid naturally found in certain seafood—during pregnancy may decrease the risk of preterm birth. A new study offers a potential explanation for this effect by suggesting that a daily 1,000-milligram (mg) dose of DHA influences certain inflammatory immune responses linked to childbirth.
The work was funded by NIH's Eunice Kennedy Shriver National Institute of Child Health and Human Development (NICHD) and by Nationwide Children's Hospital. It was led by Christina J. Valentine, M.D., of the University of Arizona and senior scientist Lynette K. Rogers, Ph.D., of Nationwide Children's Hospital. The findings appear in a special issue
of Nutrients.
Background
The maternal immune system undergoes extensive changes during pregnancy and childbirth. Although essential for the start of labor, early inflammatory immune responses are linked to a higher risk of preterm birth and other complications. Because DHA has anti-inflammatory properties, scientists have investigated whether taking more than the 200 mg dose included in many prenatal vitamins helps reduce the probability of preterm delivery.
An NICHD-funded clinical trial previously found that pregnant people who took 1,000 mg/day of DHA had lower rates of preterm birth than those who took 200 mg/day. Participants who had low DHA levels at study enrollment benefited most from the high-dose supplement.
In the current analysis, researchers measured five proteins involved in inflammatory immune responses. They assessed the levels of these proteins, as well as DHA levels, in blood samples obtained at study enrollment (between 12 and 20 weeks of pregnancy) and delivery from 902 participants, of whom 437 took 200 mg/day of DHA and 465 received 1,000 mg/day.
Results
The researchers found that the higher daily dose of DHA influences levels of two proteins—the receptor for advanced glycosylation end products (sRAGE) and interleukin 6 (IL-6)—which may explain its ability to reduce the risk of preterm birth. Their analysis accounted for other factors that can affect preterm birth risk, including DHA level at study enrollment, smoking history, race and ethnicity, history of preeclampsia, and body mass index.
Study participants with higher sRAGE levels at enrollment were more likely to have longer pregnancies and to deliver at term. Generally, sRAGE levels decrease between early pregnancy and childbirth, and several studies have found low sRAGE levels in people who experience spontaneous preterm delivery. The scientists observed smaller decreases in sRAGE levels between study enrollment and delivery for participants receiving 1,000 mg/day of DHA, compared to those receiving 200 mg/day. This suggests that that the higher DHA dose supports more robust production of sRAGE and may help reduce inflammation during pregnancy.
In the study population, higher IL-6 levels at delivery were connected to a higher likelihood of delivering after 37 weeks of pregnancy. Those who took the higher DHA dose had a substantially larger increase in IL-6 levels between enrollment and delivery than those who took the lower dose.
Significance
These data provide a potential explanation for how a high daily dose of DHA during pregnancy influences the maternal immune system and could contribute to a lower risk of preterm birth. The authors note that further study of these relationships is needed.
Reference
Valentine CJ et al. Higher-dose DHA supplementation modulates immune responses in pregnancy and is associated with decreased preterm birth
. Nutrients DOI: 10.3390/nu13124248 (2021)