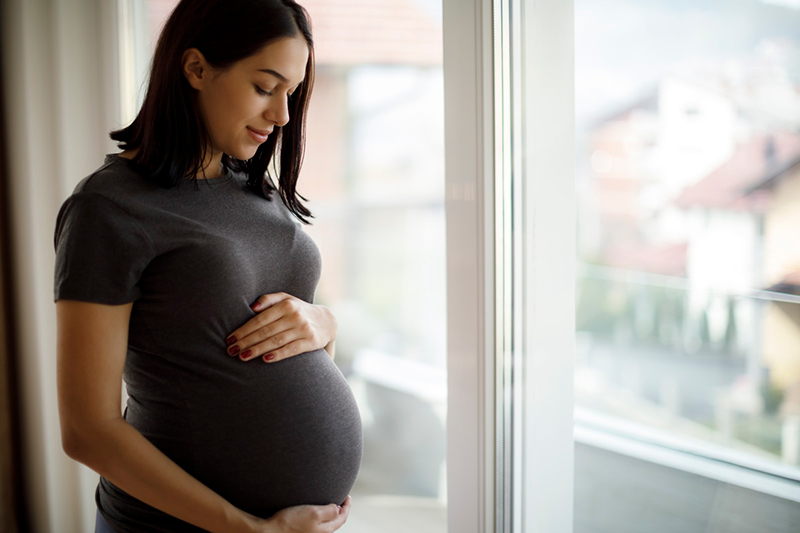 An individual's risk for death by suicide may begin before they are born, suggests a study by researchers at the National Institutes of Health. The authors compared pregnancy and birth records of nearly 50,000 individuals born between 1959 and 1966 to death records through 2016. They found that suicide rates were higher for males, white people, and for those who were among the younger siblings in a family. Other risk factors included having a parent with less than a high school education, having a parent who worked a manual labor job, and having a mother with a high rate of pregnancy complications or who smoked during pregnancy.
The study's lead author is Pablo Vidal-Ribas, Ph.D., of NIH's Eunice Kennedy Shriver National Institute of Child Health and Human Development (NICHD). It appears in Translational Psychiatry.
"Our study suggests that vulnerability to suicide death may be established very early," said the study's senior author, Stephen E. Gilman, Sc.D., of the NICHD Social and Behavioral Sciences Branch. "We still need a much stronger understanding of how suicide prevention efforts could use this information, but for now our study reveals yet another long-term benefit of providing high-quality prenatal care."
Background
The authors noted that most research on suicide has focused on factors around the time of suicide, which tend to increase during late adolescence and early adulthood and peak through middle to late adulthood. However, the mental health problems that increase suicide risk—depression, for example—may result in part from conditions affecting brain development in fetal and early life. These conditions include undernutrition, maternal substance use during pregnancy, maternal and paternal age, and parents' social and economic conditions.
To conduct the study, the researchers examined records from the NIH's landmark Collaborative Perinatal Project (CPP), which followed 49,853 individuals born between 1959 and 1966. The CPP study sought to identify factors contributing to children's neurological disorders and collected information on social and economic characteristics of families and documented pregnancy, birth and newborn medical histories. The researchers searched the U.S. National Death Index for death records of individuals who were enrolled in the project from 1979 through 2016 and identified 288 individuals who had died by suicide among the 3,555 study participants.
The study compared individuals of a similar age who had died of other causes or who were still alive to those who died by suicide by the end of 2016.
The researchers also evaluated suicide risk in terms of a pregnancy complication score, a composite of pregnancy-related factors such as maternal age, multiple pregnancies, growth indicators of the developing fetus, and maternal infections during pregnancy.
Results
The researchers examined social characteristics and identified the following suicide risk factors:
Male sex (three times the risk)
Being a white person (14% higher risk)
Having a parent with less than a high school education (more than twice the risk)
Having a parent who worked at a manual occupation (a 38% higher risk)
Being a younger sibling (more than a 50% higher risk)
Being born to a mother who had a high rate of pregnancy complications more than doubled the risk for suicide. Having a mother who smoked during pregnancy increased suicide risk by 28%.
Significance
The authors called for more research examining how early life factors might influence suicide risk throughout adulthood.
"We think there is an underlying vulnerability to suicide established early in life and that this vulnerability could have a complex relationship with risk factors close to the ages at which suicide occurs," Dr. Vidal-Ribas said. "We need to figure out how that complex relationship works to use the information from our study in clinical practice and in suicide prevention efforts."
Reference
Vidal-Ribas, P., et al. Prenatal origins of suicide mortality: a prospective cohort study in the United States. Translational Psychiatry. 2021
###
About the Eunice Kennedy Shriver National Institute of Child Health and Human Development (NICHD): NICHD leads research and training to understand human development, improve reproductive health, enhance the lives of children and adolescents, and optimize abilities for all. For more information, visit https://www.nichd.nih.gov.
About the National Institutes of Health (NIH): NIH, the nation's medical research agency, includes 27 Institutes and Centers and is a component of the U.S. Department of Health and Human Services. NIH is the primary federal agency conducting and supporting basic, clinical, and translational medical research, and is investigating the causes, treatments, and cures for both common and rare diseases. For more information about NIH and its programs, visit https://www.nih.gov.