Alison Cernich, Ph.D.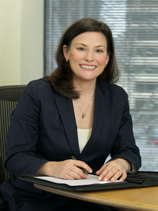 Alison Cernich, Ph.D., was selected as Director of the National Center for Medical Rehabilitation Research (NCMRR). Dr. Cernich, a neuropsychologist, has served as the Deputy Director for the Defense Centers of Excellence for Psychological Health and Traumatic Brain Injury at the United States Department of Defense (DCoE).
Through basic, translational, and clinical research, the NCMRR fosters the development of scientific knowledge needed to enhance the health, productivity, independence, and quality-of-life of people with physical disabilities.
As Deputy Director of DCoE, which seeks to improve the lives of our nation's service members, families, and veterans by advancing excellence in psychological health and traumatic brain injury (TBI) prevention and care, Dr. Cernich was the senior liaison from the Department of Veterans Affairs to the Department of Defense on matters relating to psychological health and TBI. In this role, she served on multiple interagency strategic planning committees and government oversight committees for major research initiatives in both Departments.
Previously, she was the Director of Neuropsychology and Director of the Polytrauma Support Clinical Team at the Veterans Affairs Maryland Health Care System.  She was also an assistant professor of neurology and psychiatry at the University of Maryland School of Medicine in Baltimore.  Her research interests involve investigating the effects of aerobic exercise on cognition in individuals diagnosed with stroke, Parkinson's disease, and other clinical populations.
Dr. Cernich is a board-certified neuropsychologist who is known for her work in TBI and computerized neuropsychological assessment. She received her doctoral degree in Clinical Psychology from Fairleigh Dickinson University in 2002. She completed a predoctoral research fellowship in rehabilitation outcomes measurement at the Kessler Medical Rehabilitation Research & Education Corporation, funded by the National Institutes of Disability and Rehabilitation Research and a post-doctoral fellowship in cognitive neurosciences at the National Rehabilitation Hospital in Washington, D.C.