Blood is life. This adage is true in many situations, particularly in newborn screening.  
In their first or second day of life, newborn babies routinely have a few drops of blood taken from their heels. These drops are collected onto filter paper and used to test for at least 30 congenital disorders, including many that are fatal or cause lifelong disability if not treated. By detecting and enabling early treatment for these disorders, the newborn screening panel can change lives forever.
NICHD's connection to newborn screening started in the 1960s, with the development of a quick, inexpensive, and effective way to test for signs of phenylketonuria (PKU), then the leading cause of acquired intellectual disability in the United States. The institute's work helped to confirm the effectiveness of the test and of the dietary treatment for PKU, which has nearly eliminated the disorder as a cause of disability. Later, NICHD research helped add congenital hypothyroidism to the list of conditions that are part of routine screening.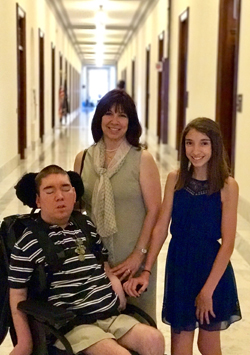 Jana Monaco and her son Stephen and Caroline
As a parent, pediatrician, and geneticist, I understand from various perspectives the importance of having this type of information about a child's health. The parent perspective is probably the most relatable—we simply want the very best for our children. Jana Monaco, featured in our latest Milestones podcast, describes a powerful and personal example of how newborn screening can change lives. Mrs. Monaco has two children, a boy and a girl, with the same rare genetic disorder, but with vastly different outcomes. Her son was diagnosed at age 3 with isovaleric acidemia, a condition in which the body is unable to process certain proteins. This diagnosis came after he suffered severe brain damage from the disorder. Mrs. Monaco's daughter was born a few years later. With prior knowledge of her son's condition, her doctors were able to detect and treat her isovaleric acidemia shortly after birth.
Parents like Mrs. Monaco have become strong advocates for newborn screening because they have felt the impact personally. Another notable example is former National Football League quarterback Jim Kelly, whose late son Hunter fought a long battle with Krabbe disease, which attacks the nervous system. Hunter is the namesake of the NICHD Hunter Kelly Newborn Screening Research Program, which aims to identify new screening technologies and research strategies.
It's the pediatrician and geneticist perspectives, though, that give me a unique outlook on newborn screening. For pediatricians, knowing that a patient has a specific disorder allows us to tailor treatment in ways that can improve both short- and long-term health. A good example of this effort is the Newborn Sequencing in Genomic Medicine and Public Health (NSIGHT) program, a collaboration between NICHD and NIH's National Human Genome Research Institute (NHGRI). Launched in 2013, NSIGHT aims to improve and explore opportunities and challenges of sequencing the entire genome of a baby, with the goal of finding clues to undiagnosed illnesses. A recent article in TIME magazine  highlights the NSIGHT program and the importance of the newborn sequencing research we support.
The geneticist in me sees newborn screening as an opportunity. I am particularly excited about the possibility that gaining knowledge of diseases earlier in the process—during pregnancy and in ways that are safe for a woman and her fetus—can help us develop prenatal interventions and better prepare for possible complications at birth. For example, my research team in NHGRI's Prenatal Genomics and Therapy Section is currently evaluating the data captured by noninvasive genetic screening tests to improve their accuracy in determining risk of pregnancy complications.
Through science and research, we continue to improve and enhance newborn screening. Alongside our parent advocates, we can work to fulfill NICHD's basic mission: that children are born healthy and have the chance to achieve their full potential for healthy and productive lives.