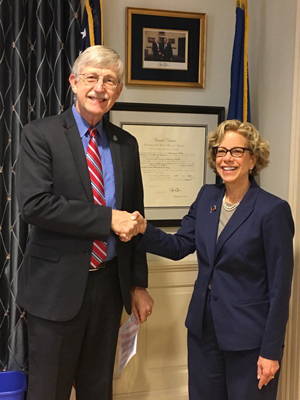 NIH Director Dr. Francis Collins shakes hands with NICHD Director Dr. Diana Bianchi at her swearing-in ceremony Nov. 8.
People new to government often use their first 100 days on the job to reflect on what they have learned during this time of rapid transition. My first 100 days at NIH began when I passed through a security check, had my bags x-rayed, and overheard people around me using strange terms like "EOD"…"FACA"…and "CRADA." I have come to learn that these are acronyms for Entry on Duty, Federal Advisory Committee Act, and Cooperative Research and Development Agreement, respectively. I had arrived in what seemed like a new country, the "land of NIH" (I've also been told that I will receive a new government passport to reflect my status as a citizen of this new land). There was a new language of acronyms to master and a new culture to learn. Although I previously served on the NICHD Advisory Council and thought I knew a lot about NICHD, I was mistaken. I set out to explore and learn everything I could about this new land.
Constructing Bridges
One of my first priorities was to meet my wonderful new colleagues at NICHD. In November 2016, I held an introductory Town Hall Meeting and shared a bit about myself and fielded questions from institute staff. One of my immediate goals, which I reiterated at the February 2017 NICHD Advisory Council meeting, was to increase NICHD's collaboration with other NIH institutes and centers.
To accomplish this goal in my first 100 days, I met with several key people and groups at NIH, including:
Dr. Matthew Gillman, director of the newly launched Environmental Influences on Child Health Outcomes (ECHO) program, an initiative aimed at analyzing existing studies for clues on how air pollution, chemicals, and societal factors—such as stress, sleep, and diet—may affect the health and development of children. Dr. Gillman also oversees the Institutional Development Awards States Pediatric Clinical Trials Network, a program created to provide families in rural, underserved locations an opportunity to participate in clinical trials. The Network originated within NICHD and now is part of the ECHO program.
Eric Dishman, director of the All of Us Research Program, formerly the Precision Medicine Initiative, an ambitious, long-range study aimed at enrolling 1 million volunteers to help researchers develop treatments and therapies targeted to an individual's genetic profile. My goal is to ensure inclusion of NICHD's research populations (children, pregnant women, and people with disabilities) in these initiatives.
I also spoke with the National Human Genome Research Institute (NHGRI)'s National Advisory Council about ways in which NICHD and NHGRI can work together, with a particular emphasis on prenatal genomics. We plan a follow-up meeting with members of each institute's key extramural personnel to identify common areas of research focus. I am particularly excited to collaborate with NHGRI, with whom NICHD shares support of the Newborn Sequencing in Genomic Medicine and Public Health, or NSIGHT, program. NSIGHT will explore the challenges and opportunities associated with the use of genomic sequence information obtained from newborns. Addressing these important questions may better help us understand infant health and possibly detect and treat genetic conditions before they develop.
Travels to Other Places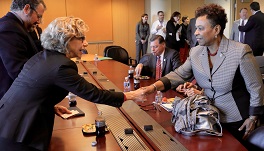 Dr. Diana Bianchi greets U.S. Rep. Barbara Lee (D-CA) during a recent Congressional tour of NIH labs and facilities.
I also ventured to a new land outside of NIH, Capitol Hill. There I met various elected representatives to inform them of the great work being performed by NICHD-funded investigators. In December, I participated in a Capitol Hill briefing at which Dr. Alison Cernich, director of NICHD's National Center for Medical Rehabilitation Research, presented a long-range research plan (PDF - 443 KB). I also attended, along with the directors of fellow NIH institutes NIDA, NIMH, and NIAAA, a symposium on mental health and addiction sponsored by the Kennedy Forum

. In February, I attended a reception to publicize awareness of The Children's Inn at NIH

, a wonderful "Place Like Home" that enables families to stay together as their children participate in clinical research at NIH. Visiting The Inn has been a highlight of my first three months here.
In downtown Washington, DC, I was honored to meet and speak with the Friends of NICHD, an independent coalition of more than 100 organizations who support the institute's mission. I also held a teleconference with the Committee on Pediatric Research of the American Academy of Pediatrics to discuss the future of pediatric clinical research and the training of pediatric clinician-scientists, among other topics.
Meanwhile, Back in the Land of NIH
Prior to my arrival, my colleagues in the NICHD Office of the Director left vacant several key positions so that I would have the opportunity to select new members of the team. It was truly my privilege to meet so many talented people during the interview process. I would like to personally congratulate Dr. Charisee Lamar as the new Director of the Office of Health Equity and welcome Dr. G. Stephane Philogene to NICHD as Director of the Office of Science Policy, Reporting and Program Analysis.
In addition, I have been busy establishing and staffing a new research laboratory within NHGRI, where we will be evaluating preclinical prenatal treatments for Down syndrome using different mouse models, as well as investigating the underlying biologic mechanisms for secondary findings following prenatal plasma DNA sequencing.
Indeed, my first three months have been fast-paced and exhilarating. My vocabulary of acronyms and abbreviations certainly has expanded. I have learned an enormous amount about the operations of both NICHD and NIH in general. I have been very impressed by the dedication of NICHD staff members to our mission. I can't wait to see what happens during the next 100 days!
Originally posted: 03/14/2017