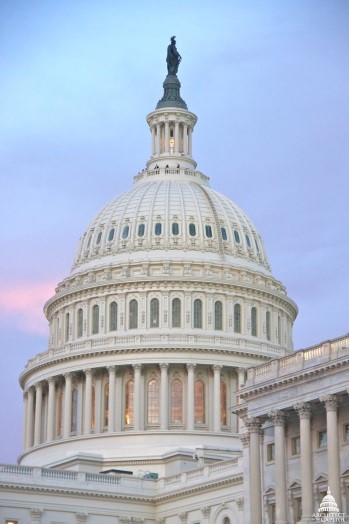 U.S. Capitol Building. Credit: Architect of the Capitol
The U.S. Code includes all of the laws of the United States. The sections of the U.S. Code listed below are relevant to NICHD and its activities, and these are still in effect.
These provisions of Federal law do one of three things: They direct NICHD to do something; they name NICHD as a participant in an activity; or they direct an agency to do something in which the NICHD participates.
The following provisions are referenced by section number in the U.S. Code. When applicable, another reference in parentheses points to the relevant section of the Public Health Service Act.
Autism Spectrum Disorders
Adolescent Health
Best Pharmaceuticals for Children Act (Child Health and Pediatrics)
Child Health and Pediatrics
Clinical Research
Contraception and Infertility
Diabetes
Education
Fetal Alcohol Syndrome
Fetal Research
Fetal Tissue Research
Fetal Tissue Transplantation Research
Fragile X Syndrome
HIV/AIDS
Institute Name, Purpose, and Organization
Intellectual Disabilities
Loan Repayment (Child Health and Pediatrics, Clinical Research, Contraception and Infertility, HIV/AIDS)
National Children's Study (Child Health and Pediatrics)
Muscular Dystrophy
Rehabilitation Research
Newborn Screening
Obstetrics and Gynecology
Prevention
Sleep
Smoking
Sudden Infant Death Syndrome
Training (Child Health and Pediatrics, Institute Purpose and Organization, Rehabilitation Research)
Autism Spectrum Disorders (ASDs)
Adolescent Health
Child Health and Pediatrics
Clinical Research
Contraception and Infertility
Diabetes
Education
Fetal Alcohol Syndrome
Fetal Research
Fetal Tissue Research
Fetal Tissue Transplantation Research
Fragile X Syndrome
HIV/AIDS
Institute Name, Purpose, and Organization
Intellectual Disabilities
Muscular Dystrophy (MD)
Rehabilitation Research
Newborn Screening
Obstetrics and Gynecology
Prevention
Sleep
Smoking
Sudden Infant Death Syndrome (SIDS):