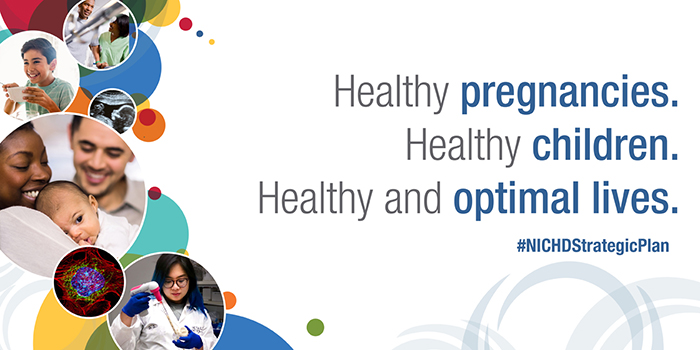 As I look back at 2019, I am amazed at how much NICHD was able to accomplish. For example, we published our first strategic plan in 20 years. The plan lays out our research goals and objectives as well as aspirational goals to drive future activities. It reaffirms NICHD's commitment to research and training to improve the health and well-being of women, children, and people with disabilities and encourages multidisciplinary teams of scientists to work together to address key public health priorities within our mission areas. I am delighted that our plan is now being used to help other NIH institutes develop strategic plans of their own.
As a part of the strategic planning process, we also revised our mission and vision statements to better distill the goals and aspirations of our work:
Mission: NICHD leads research and training to understand human development, improve reproductive health, enhance the lives of children and adolescents, and optimize abilities for all.
Vision: Healthy pregnancies. Healthy children. Healthy and optimal lives.
I would like to extend my gratitude to staff and working group members who have showed determination and perseverance over the past two years to make this plan a reality. We will continue to work with our partners in government, academia, industry, and healthcare to transform these priorities and objectives into real-world results.
This year, our leadership team received a boost with the appointment of a new deputy director, Dr. Alison Cernich. Many of you know her from NICHD's National Center for Medical Rehabilitation Research, which she had led since 2015. We are excited to have her skills and experience in rehabilitation medicine, program development, portfolio management, policy, and communications in this senior leadership role. In addition, we appointed a new executive officer, Rodney Rivera, Jr., who has also been part of the NICHD family for some time, most recently as our deputy executive officer.
In addition to these changes within our institute, in 2019 NICHD collaborated actively across NIH to produce important contributions to the following projects:
The Task Force on Research Related to Pregnant Women and Lactating Women (a provision of the 21st Century Cures Act). The initial NICHD-led task force produced a report that contained 15 different recommendations. The task force was then renewed for an additional two years by the Secretary of Health and Human Services (HHS). The reconvened task force will provide advice and guidance to the HHS Secretary on the implementation of the recommendations that were submitted in 2018.
The NIH Helping to End Addiction Long-termSM Initiative. The NIH HEAL InitiativeSM tackles the opioid epidemic by boosting research funding for projects, including the Advancing Clinical Trials in Neonatal Opioid Withdrawal (ACT NOW) study, which is funded by NICHD and by NIH's Environmental influences on Child Health Outcomes (ECHO) Program. ACT NOW aims to establish an evidence-based standard of care for newborns who were exposed to opioids while in the womb. Currently, no national standards exist. The clinical studies will explore strategies for weaning infants from treatments and evaluate non-drug treatments, such as the Eat, Sleep, Console approach. NICHD has also launched programs to find alternatives to opioids for painful conditions in women of reproductive age. Research that explores how opioids affect women of reproductive age will serve as a powerful complement to the ACT NOW initiative. In our American Journal of Obstetrics and Gynecology (AJOG) Viewpoint article, ECHO Program Director Dr. Matthew W. Gillman and I describe our coordinated efforts to address the impact of opioids on women and children .
The INCLUDE (INvestigation of Co-occurring conditions across the Lifespan to Understand Down syndromE) Project. This initiative supports research to address the quality of life and health needs of people with Down syndrome. It also examines health conditions, such as Alzheimer's disease and heart disease, that affect people with Down syndrome differently from the general population. In addition to a successful workshop held in September, "Planning a Virtual Down Syndrome Cohort Across the Lifespan," the initiative is currently working to fund new high-risk, high-reward science projects; develop a large, long-term cohort of Down syndrome participants; and increase the participation of people with Down syndrome in existing and future clinical studies.

In 2019, NICHD also hosted two national meetings on improving maternal health and preventing maternal mortality, highlighting our longstanding commitment to maternal health research in the United States and abroad. Afterward, NICHD staff contributed a commentary publication to AJOG on the importance of research in reducing maternal morbidity and mortality rates
.
To round out the year's successes, longtime NICHD grantee Esther Duflo and Michael Kremer, who was supported by NICHD early in his career, shared a Nobel Prize
with colleague Abhijit Banerjee for their work in development economics, including an experiment-based approach that uses smaller, more precise questions to gain reliable answers on how to fight global poverty successfully.
Additional scientific highlights made possible by our staff, researchers, and grantees are featured in the digital showcase, Selected NICHD Research Advances of 2019. I encourage you to read about these advances, which illustrate the breadth and impact of NICHD science.