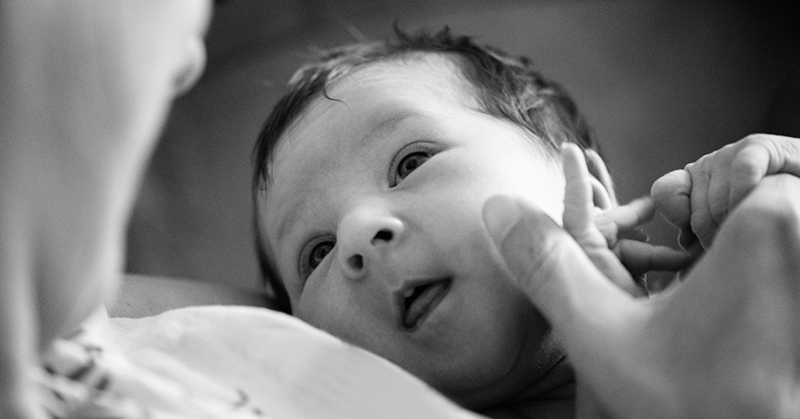 For nearly four decades, NICHD's Neonatal Research Network (NRN) has generated scientific evidence to improve the health of critically ill newborns. NICHD created the NRN in 1986 to fill a need for rigorous research to determine the best care for infants admitted to neonatal intensive care units, and we recently announced awards for the network's 2023 to 2030 funding cycle. Among its many research accomplishments, the NRN has established hypothermia as a therapy for birth asphyxia and demonstrated that earlier jaundice treatment with phototherapy reduces brain injury in preterm infants. Last year, I highlighted the NRN's continued progress in saving extremely premature infants.
Focusing on Opioid Exposure
Recent findings from the NRN and collaborators mark an important step toward developing an evidence-based standard of care for newborns who were exposed to opioids during pregnancy. Hospitals have adopted various approaches to caring for babies with neonatal opioid withdrawal syndrome (NOWS), which may cause irritability, an inability to be soothed, and problems with sleeping and feeding.
For the past half-century, the traditional assessment tool for infants with NOWS has been the Finnegan Neonatal Abstinence Scoring Tool (FNAST), a scoring system that evaluates signs of withdrawal using more than 20 physical findings. FNAST can be subjective, and it may overestimate the need to treat infants with opioid medications to manage their withdrawal symptoms.
A newer approach called Eat, Sleep, Console (ESC) prioritizes nonpharmacologic care, including increased family presence, holding, breastfeeding, swaddling, and rocking in low-stimulus environments. ESC relies on a more objective assessment of whether an infant can eat, sleep, and be consoled. The approach also seeks to empower families in the care and nurturing of their infants, helping parents and caregivers to feel less afraid and more valued. Many hospitals have adopted ESC, but until now, there has been a lack of rigorous evidence to establish its safety and efficacy. Although small studies yielded encouraging results, concerns lingered that the method might undertreat infants or lead to premature discharge from the hospital.
A Large-Scale National Study
Investigators from the NRN and the IDeA States Pediatric Clinical Trials Network (ISPCTN)
, a component of NIH's Environmental influences on Child Health Outcomes (ECHO) program
, enrolled 1,305 infants across 26 U.S. hospitals into a clinical trial evaluating ESC for newborns with NOWS. The study is part of the Advancing Clinical Trials in Neonatal Opioid Withdrawal (ACT NOW) collaborative funded by NIH's Helping to End Addiction Long-term® (HEAL) initiative. Participating hospitals were randomized to transition from usual care with FNAST to ESC at different time points. More than 5,000 newborn care providers were trained on how to implement the ESC approach.
Infants in the study cared for with ESC were medically ready for discharge from the hospital almost a week earlier than those who received usual care with FNAST—an average of 8.2 days for the ESC group compared to 14.9 days for the usual care group. Those cared for with ESC were also less likely to receive treatment with opioids to manage their withdrawal symptoms—19.5% in the ESC group versus 52% in the usual care group. Safety outcomes at three months of age were similar for both groups. These findings, published in the New England Journal of Medicine, support use of ESC as a standard approach to treat infants with NOWS, reducing variability in care and improving outcomes for these babies and their families.
One of the great strengths of this study is its geographic diversity, spanning hospitals in locations as varied as Sioux Falls, South Dakota; Honolulu, Hawaii; and Spartanburg, South Carolina. Partnering with ECHO's ISPCTN helped ensure that the study includes rural and medically underserved communities that have been particularly hard hit by the opioid crisis. The findings demonstrate that ESC can work well across widely diverse hospitals and communities.
I am excited to see great interest in the trial results, evidenced by the high volume of coverage in the news and on social media
and many downloads of the research paper. The study team is continuing to monitor many of the infants through two years of age to evaluate any potential effects of ESC on the infant's development and on infant and family well-being. Ultimately, I hope this research will lead to clinical practice recommendations from professional organizations that will help optimize care for the youngest opioid-exposed patients.