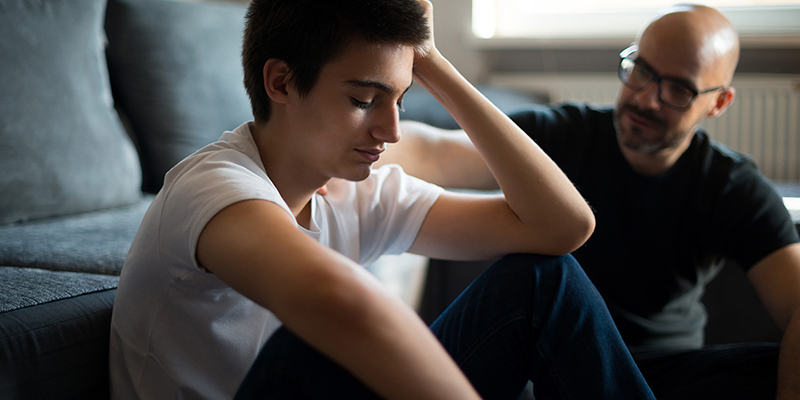 The COVID-19 pandemic has magnified mental and emotional health challenges for all of us. Parents worry about the effects of loneliness and social isolation on their children. But even before COVID-19, mental health challenges were a leading cause of disability and adverse outcomes in young people. In 2019, one in three high school students and half of female students reported persistent feelings of sadness or hopelessness, as U.S. Surgeon General Vivek Murthy, M.D., noted in a December advisory.
Among other recommendations, the Surgeon General's advisory calls for an increase in timely data collection and research to identify and rapidly respond to youth mental health needs. NICHD has a long track record of such research. For example, NICHD-supported work helped describe the long-term impacts on children's mental health of exposure to violence, head injuries, stress, and illicit and prescription drugs. NICHD also works to understand the short- and long-term health effects of bullying, including cyberbullying.
Growing Up in Challenging Times
Currently, along with the National Institute of Mental Health (NIMH), NICHD is supporting research to better understand the effects of COVID-related school disruptions on children's mental health and social and emotional development. NICHD also will be partnering with NIMH and the National Institute on Minority Health and Health Disparities (NIMHD) on the second iteration of a challenge for high school students to talk about their mental health to help reduce stigma. More details about this year's challenge will be available later this month.
Each child's reaction to the COVID-19 pandemic depends on their unique situation. Notably, the pandemic has exacerbated existing health inequities. For example, low-income adolescents of color are disproportionately exposed to COVID-related stresses such as family illness, food insecurity, and financial strain. NICHD-funded research is evaluating the impact of a stress-management program on urban adolescents' mental health during COVID-19, as well as identifying factors that shaped adolescent mental health during the pandemic.
Alleviating Parents' Mental Health Struggles
Parental stress also contributes to children's mental health challenges. Recent NICHD-funded research
underscores the importance of preventive approaches to strengthen parent and child resilience before crises occur. The researchers found that couples who took early parenting classes 10 years ago had more positive family relationships and experienced fewer family, parent, and child problems during the COVID-19 pandemic, compared to couples who didn't take the classes.
Feelings of being overwhelmed, sad, and anxious are common during pregnancy and after childbirth, and pandemic-related stressors can amplify those feelings. An NICHD-funded study found that childbirth during the pandemic was associated with anxiety and post-traumatic stress symptoms. The findings also suggest that this increased stress can interfere with adjustment to new motherhood and mother-infant bonding.
Too often, the mental health struggles of expecting and new parents are overlooked. NICHD's Moms' Mental Health Matters initiative helps parents and parents-to-be learn how to recognize signs of depression and anxiety around pregnancy and how to get help. By sparking vital conversations about mental health, we hope to show moms that they are not alone and make it easier for them to ask for help managing depression and anxiety.
Focusing on Mental Health in the Workplace
These research advances and resources would not be possible without NICHD's staff, trainees, and grantees—who continue to confront their individual challenges of working and caring for their families under unprecedented conditions. I am continually impressed by their resilience, commitment, flexibility, and fortitude. As we approach the second anniversary of the COVID-19 pandemic, I encourage everyone to prioritize their mental health. Remember that seeking help in challenging times is a sign of strength.