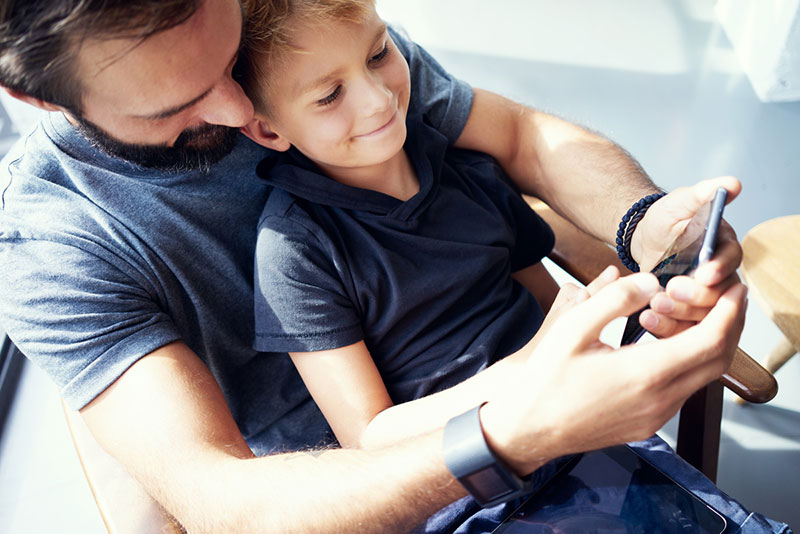 Technology and digital media have become ubiquitous parts of our daily lives. Screen time among children and adolescents was high before COVID-19 emerged, and it has further risen during the pandemic, thanks in part to the lack of in-person interactions.
In this increasingly digital world, we must strive to better understand how technology and media affect development, health outcomes, and interpersonal relationships. In fact, the fiscal year 2023 federal budget sets aside no less than $15 million within NICHD's appropriation to investigate the effects of technology use and media consumption on infant, child, and adolescent development.
NICHD has a longstanding commitment to research on how exposure to and use of technology and digital media affect development from infancy through adolescence. For example, understanding the roles that parents and caregivers play in children's media use can help guide strategies to protect children from developing habits that may be detrimental to their emotional and physical health. Findings from one NICHD-funded study
suggest that postpartum depression may be a risk factor for problematic media use—defined as use that interferes with daily functioning—among both young children and their parents. Another study found that parents with lower levels of education were more likely to expose their babies to screens by age 6 months. Among families who exposed their infants to screens, screen use was relatively common during meals, when going to sleep, while waiting, and to help calm the infant.
Using a smartphone or a tablet to help calm a child may make tantrums worse when the device is taken away, suggests other NICHD-funded work
. The researchers observed that when toddlers were energetic before engaging in digital media, they had less difficulty transitioning away from their device. But when parents used media to calm down toddlers, the children were less likely to transition smoothly to the next activity. Another study found that toddlers experienced more tantrums following play with a tablet device, compared to a print book.
Parents may not closely oversee their children's media use, especially as children gain independence. However, many scientific studies of child and adolescent media use have relied on parents' recollections of how much time the children spent in front of a screen. By using software embedded within mobile devices to calculate children's actual use, NICHD-supported researchers found that parent reports were inaccurate more often than they were on target. A little more than one-third of parents in the study underestimated their children's usage, and nearly the same proportion overestimated it.

With a recent grant award from NICHD, researchers at Baylor College of Medicine plan to overcome the limitation of relying on parental reports by using a novel technology to objectively monitor preschool-age children's digital media use. They ultimately aim to identify the short- and long-term influences of technology and digital media use on children's executive functioning, sleep patterns, and weight. This is one of three multi-project program grants awarded in response to NICHD's recent funding opportunity announcement inviting proposals to examine how digital media exposure and use impact developmental trajectories and health outcomes in early childhood or adolescence. Another grant supports research to characterize the context, content, and use of digital media among children ages 1 to 8 years and to examine associations with the development of emotional regulation and social competence. A third research program seeks to better characterize the complex relationships between social media content, behaviors, brain activity, health, and well-being during adolescence.
I look forward to the findings from these ongoing projects and other studies that promise to inform guidance for technology and media use among children and adolescents. Additionally, the set-aside funding for the current fiscal year will allow us to further expand research in this area. These efforts will help us advance toward our aspirational goal to discover how technology exposure and media use affect developmental trajectories, health outcomes, and parent-child interactions.