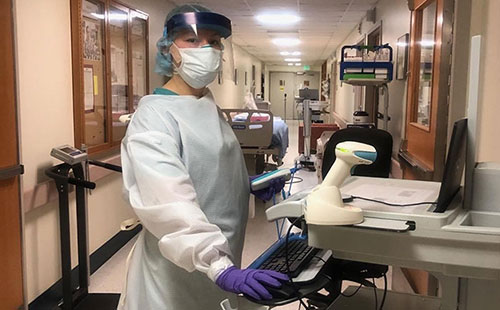 Lola Saidkhodjaeva assists with triage in the COVID-19 unit during the overnight shift.
Photo Credit: Lola Saidkhodjaeva
Crisis often brings out the best in us. We have seen several stories about people volunteering their time and expertise to help with patient care and other needs, and I want to recognize one of NICHD's own essential workers who is on the front lines of the response to COVID-19. Lola Saidkhodjaeva, a registered nurse and research nurse specialist with Drs. Denny Porter and Constantine Stratakis at the NIH Clinical Center, is currently deployed as a volunteer with the U.S. Public Health Service in Shiprock, New Mexico, in the Navajo Nation. She is working 12+ hour overnight shifts in a medical-surgical ward, which was converted to a COVID-19 ward.
"The biggest challenge is watching multi-generational families lose their loved ones," Lola said. "The most rewarding part is knowing how much the patients appreciate what we're doing. They're always thanking us."
And so are we. We are proud and grateful that one of our young nurses has so bravely volunteered to care for a highly vulnerable population.
Confronting a pandemic through research
Back in Bethesda, the NICHD team has been working around the clock to develop and support studies that will investigate the impact of the SARS-CoV-2 virus on our core populations, including children, pregnant women, and people with disabilities. For example, a new study that our Maternal-Fetal Medicine Units Network
has launched in 12 U.S. clinical centers aims to improve understanding of the effect of COVID-19 on pregnancy outcomes. The multipronged study will analyze medical records of up to 21,000 pregnant women to evaluate whether changes in healthcare delivery, such as fewer routine antenatal care visits, made in response to the pandemic have led to higher rates of pregnancy-related complications or cesarean delivery. The study also will track more than 1,500 pregnant women with confirmed SARS-CoV-2 infection, monitoring their health for six weeks after childbirth. Researchers also aim to establish the risk of pregnant women with the virus transmitting it to their fetus.
Another study through our Pediatric Trials Network (PTN)
will evaluate drugs currently being used to treat COVID-19 in infants, children, and adolescents across the country. The study leverages an existing clinical trial that already investigates the dosage and safety of drugs prescribed off-label for children for a variety of medical conditions. For COVID-19, the study will explore several drugs, including lopinavir/ritonavir, ribavirin, and tocilizumab. To be clear, patients will not be enrolled into a specific treatment protocol to test these drugs. Rather, doctors at participating centers, who already are treating their patients with one of these drugs can enroll consenting patients into this study. PTN researchers will analyze blood samples collected from routine medical procedures to understand how children absorb and process these drugs. This information is key to establish the safety and appropriate usage of these drugs for children. We have learned over many years that children are not simply little adults, so their unique needs must be taken into account during this pandemic.
Investigating SARS-CoV-2 in children
We are also learning more daily about reported cases in the United States and Europe of a multisystem inflammatory syndrome, called MIS-C, that appears to be related to previous exposure to the SARS-CoV-2 virus. Though clinical knowledge is evolving, MIS-C seems to encompass a spectrum of inflammatory processes with features overlapping toxic shock syndrome and a heart condition known as Kawasaki disease. The majority of cases have affected school-age and otherwise healthy children. There also are emerging cases in young adults.
NICHD aims to improve the understanding of how SARS-CoV-2 infection and MIS-C affect children. We are collaborating both globally and domestically, working closely with our inter-institute colleagues at NIH, the Centers for Disease Control and Prevention, and in the Office of the Assistant Secretary of Health. NICHD will help with coordination of clinical trials, primarily through its existing networks, to understand immunological and other factors of SARS-CoV-2 exposure in children, to enhance knowledge of the pathogenesis of MIS-C, and to assess potential treatment approaches.
Including people with Down syndrome
Finally, children and adults with physical and intellectual disabilities, also require special attention during this challenging time. We hosted a workshop in early May highlighting our clinical trials on Down syndrome. These trials are part of the NIH INCLUDE study (Investigation of Co-occurring conditions across the Lifespan to Understand Down syndromE), which involves three components:
Promoting basic science studies on chromosome 21, which is duplicated in people with Down syndrome.
Assembling a large study population of people with Down syndrome.
Include people with Down syndrome in current and future clinical trials.
Together, these coordinated research efforts, even during a global pandemic, build on our mission to lead research and training to understand human development, improve reproductive health, enhance the lives of children and adolescents and optimize abilities for all. Our commitment to these efforts remains strong.
Maintaining focus on maternal mortality
The month of May was also marked by an engaging and successful virtual workshop on conditions that raise the risk of life-threatening pregnancy complications. The NICHD-sponsored workshop, which was well-attended by researchers from around the country, made it abundantly clear that there are multiple predisposing conditions exposing women to high risks. In addition to the more well-known risks, such as infection, hemorrhage, cardiovascular diseases, and hypertension disorders, there are mental health conditions and other factors that contribute to pregnancy complications.
Our keynote speaker, Mary E. D'Alton, M.D., chair of the Department of Obstetrics and Gynecology and Gynecologist-in-Chief at New York-Presbyterian/Columbia University Irving Medical Center, eloquently pointed out that we need to remember the "3 Ds of preventable pregnancy-related deaths: denial, delay, and dismissal."
Many of the speakers echoed the sentiment that women often feel dismissed, which can delay their diagnosis. Jane Ebot-Bish, Ph.D., a demographer and senior advisor for the Centers of Civic Impact at Johns Hopkins Krieger School of Arts and Science, shared her harrowing post-pregnancy experience, returning to the hospital less than two days after giving birth because of continued blood pressure complications that were not considered to be serious while she was in the hospital.
In the era of COVID-19, these concerns are amplified and even more alarming. Perhaps one positive outcome from this pandemic is the increased use of telehealth and greater accessibility to medical advice and consultation.