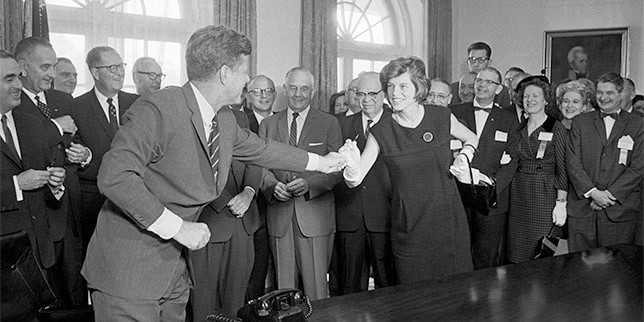 President John F. Kennedy signs legislation to create NICHD in 1962.
As we ring in the new year, 2022 marks a special milestone—the 60th anniversary of NICHD. On October 17, 1962, Congress established NICHD as the first NIH institute to focus on the entire life course rather than a specific disease or organ system. Our institute was also the first to prioritize populations that were often overlooked by researchers, and even society, at the time—people with intellectual and developmental disabilities, children, and women.
While the mission and focus of our institute may have seemed radical at its inception, this foundation feels prescient six decades later. Science is now more multidisciplinary, with a greater understanding of the lifelong consequences of biological processes and environmental exposures. Society is now also more aware of the need to ensure that all of its members are respected, valued, and given the best opportunities for a healthy life.
How did NICHD come to be? Our biggest champion was the woman for whom our institute is named, Eunice Kennedy Shriver. Congress honored her in 2007 by renaming our institute to recognize her vision, dedication, and contributions to its founding. Mrs. Shriver was a lifelong advocate for people with intellectual and developmental disabilities (IDDs) and pursued that goal as a senior advisor to her brother, President John F. Kennedy. Without her, our institute would not be what it is today. While most of us did not have the opportunity to know Mrs. Shriver personally, you can get glimpses of her vision, tenacity, and character in a fireside chat that I had with Pulitzer-prize winning journalist Eileen McNamara in 2018. Our engaging conversation centered on her biographical book Eunice: The Kennedy Who Changed the World.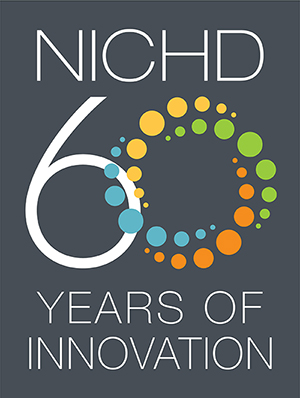 Over the past 60 years, NICHD's accomplishments have touched nearly every facet of our everyday lives. Our contributions to society include vaccines for infectious childhood diseases, developing and expanding newborn screening, pioneering the first home pregnancy test, and nearly eliminating mother-to-child transmission of HIV. We also showcase annual accomplishments. I recommend reading our 2021 year in review, which highlights how our institute advocated for our populations of interest during the COVID-19 pandemic.
NICHD also pioneered the emergence and elevation of scientific disciplines. By funding research on birth defects and IDDs, we established IDDs as a recognized field of research and created a new pediatrics specialty. Over the years, NICHD continued to focus on overlooked but vital topics, including gynecologic health, contraception, rare diseases, pregnancy and lactation, and medical rehabilitation. We also paved the way for other institutes as the first NIH component to go beyond biomedical research and include biobehavioral and social sciences.
NICHD is, and has always been, a family—a whole that is more than the sum of its unique and extraordinary parts. This year and every year, we continue to celebrate all members of the NICHD family who help the institute achieve its mission. Staff across NICHD bring with them a wealth of knowledge and skills that have helped the institute break new ground and expand existing knowledge.
To celebrate 60 years, NICHD will host a series of events, culminating in a special scientific symposium on our anniversary, October 17, 2022. Please join us throughout 2022 to celebrate.