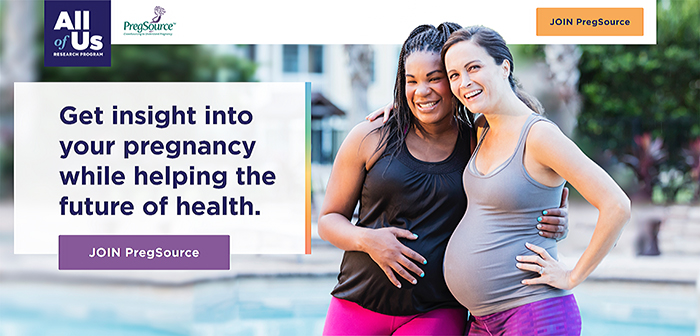 Pregnancy is a time when women are especially curious about their changing bodies and the development of their future child. For more than a year, NICHD has been capturing information directly from pregnant women through its PregSource® crowdsourcing project. Now we hope to expand that initiative with a new partnership with NIH's All of Us Research Program, which seeks to gather data from one million or more people in the United States to advance health.
This month, new All of Us participants who answer "yes" to a question about whether they are currently pregnant will receive information about PregSource. This pilot aims to enroll about 100 pregnant women in both projects. While the All of Us project includes pregnant women, it doesn't currently have questions related to the pregnancy experience. Our partnership is the first by the All of Us project to cross-promote similar research initiatives.
NICHD's PregSource initiative helps to fill an important need for reliable patient-reported data during pregnancy. Through confidential, online questionnaires, pregnant women provide information about their experiences, such as nausea, sleep patterns, and weight gain. PregSource also includes a medication tracker, allowing women to log their use of prescription drugs, supplements and over the counter medications during pregnancy. As we have learned through chairing the federal Task Force on Research Specific to Pregnant Women and Lactating Women, very little information is available on what medications or supplements are taken by these populations.
PregSource is unique in that it allows participants to see how their pregnancy experiences compare with other anonymous women using the program. Participants can also access a Resource Library with an array of trusted health information on pregnancy, breastfeeding, and child development. Because it is a research project, participation in PregSource is free, and women who use the program do not receive ads for pregnancy- or baby-related products or services.

We see our pilot with All of Us as a potential win-win for pregnant women and researchers. We hope that PregSource, which has enrolled more than 1,200 women to date, will continue to attract pregnant women already interested in participating in research. The All of Us program will identify a key audience—pregnant women—whose needs are largely unmet in the research arena. As of Oct. 31, All of Us had enrolled more than 3,500 women who were pregnant when they completed the Overall Health survey. In addition, PregSource aims to share de-identified data from pregnant women with the All of Us data bank. This collaboration is designed to make both research programs more robust, diverse, and dynamic.