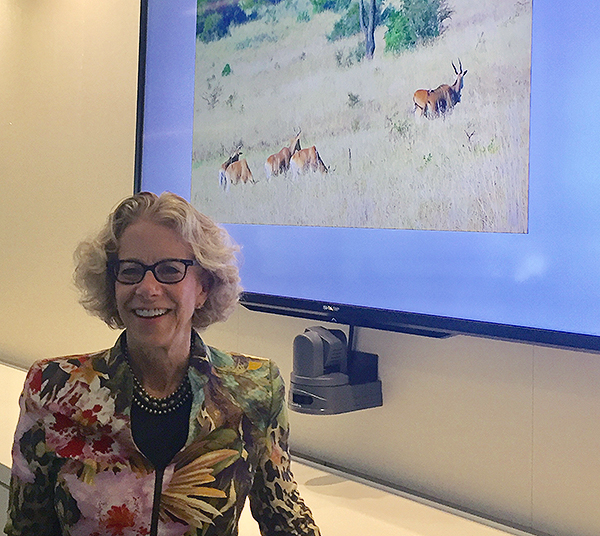 NICHD Director Dr. Diana Bianchi recently spoke at a staff presentation describing a trip to review NIH HIV prevention efforts in Africa.
Source: Meredith Daly, NICHD
With great excitement (and some anxious anticipation), we revealed NICHD's new mission and vision statements during our June Council meeting and at meetings of the Division of Intramural Research and Division of Intramural and Population Health. We're happy to report that the reception was positive. We believe that these refreshed statements more clearly articulate our mission and the passion for the work we do. We hope that they will resonate with the extramural research community, the health care sector, the patient and advocacy communities and all other stakeholders of the institute
Mission
NICHD leads research and training to understand human development, improve reproductive health, enhance the lives of children and adolescents, and optimize abilities for all.
Vision
Healthy pregnancies. Healthy children. Healthy and optimal lives.
These statements were crafted in tandem with the NICHD Strategic Plan, which we will unveil in its entirety this fall.
Council Update
Each of our Council meetings features a Voice of the Participant segment in which we hear the personal experiences of someone who is affected by a disease or disorder within NICHD's research purview. For our June Council meeting, we heard from a young woman who suffered with excruciating pain from endometriosis for more than eight years. Eventually, she had to have a hysterectomy, which has made the pain more manageable, but she is not completely pain-free. Her story is heartbreaking, yet it fuels our motivation to find better treatments, and possibly a cure, for this disease that affects about 10 percent of women.
Dispatches from Barcelona
Another motivating experience this month was the Trisomy 21 Research Society meeting in Barcelona, Spain. The society is dedicated to advancing science and improving the lives of people with Down syndrome. I attended the meeting with Drs. Melissa Parisi and Sujata Bardhan of NICHD's Intellectual and Developmental Disabilities Branch. NIH funding for Down syndrome research was the subject of much discussion—and admiration—from the European members of the society. In addition, four trainees from my current laboratory and one from my former laboratory at Tufts presented five posters during the meeting, which featured 12 hours of scientific sessions each day! I had lost my voice by the time I returned, but we heard about a lot of exciting new research directions. Adults with Down syndrome joined in a panel discussion on participating in research. We also enjoyed cultural performances by people with Down syndrome.
Addressing Workplace Harrassment
This month also featured a meeting of the NIH Advisory Committee to the Director. Among the topics of discussion were the NIH Workplace Climate and Harassment Survey that NIH employees completed in February and March of this year. The survey showed that about one in five respondents had experienced some type of harassment in the past year, and the rate was even higher for trainees and among LGBTQIA+ populations. Clearly, we have work to do to create a culture of respect and a workplace free of harassment, and I will work ardently with our institute's leadership to make progress toward those goals.