Overview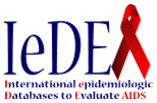 IeDEA is an international research consortium established in 2005 to provide a rich resource for globally diverse HIV/AIDS data. Sites in various regions throughout the world collaborate to collect and define key variables, harmonize data, and implement methodology to pool data as a cost-effective means of generating large data sets to address high-priority research questions and streamline HIV/AIDS research. The NICHD Maternal and Pediatric Infectious Disease Branch (MPIDB) has co-funded IeDEA since 2006, providing support to promote the inclusion of patient data on infants, children, adolescents, and pregnant women.
IeDEA collects HIV/AIDS data from seven international regional data centers: four in Africa and one each in the Asia-Pacific region, the Central/South America/Caribbean region, and North America. This data and resource pooling allows researchers to address unique and evolving research questions that individual cohorts are unable to answer.
NICHD, the National Institute of Allergy and Infectious Diseases, National Cancer Institute, National Institute of Mental Health, and National Institute on Drug Abuse provide funding to IeDEA through a Cooperative Agreement mechanism (U01). MPIDB funds pediatric and maternal data collection from the four African regions (East, West, South, and Central) and from regional centers in the Asia-Pacific region and South America. These regions include more than 150,000 HIV-infected children globally in their databases. The North America region is not funded for pediatric data collection because other branch programs support extensive pediatric data collection there. The Pediatric IeDEA Working Group has been extremely productive, with several cross-regional and global analyses and publications. Data from IeDEA pediatric analyses were critical to informing the 2013 World Health Organization guidelines on pediatric treatment.
Topic Areas
IeDEA data are collected for pediatric and maternal HIV/AIDS patients treated with antiretroviral therapies. Some topics of research using these data include:
Clinical, viral, and immune response of children with HIV to antiretroviral therapy and children's survival
Risk factors for disease progression and mortality in children with HIV
Infectious complications, such as tuberculosis and malaria, in children with HIV
Types of antiretroviral regimens used in children with HIV in low-resource settings for initial therapy and subsequent treatments
Development of drug resistance in children receiving antiretroviral therapy
Complications of therapy among pediatric patients
Options for monitoring pediatric responses to therapy in low-resource settings
Psychosocial issues, such as type of caregivers for children with HIV, school issues, and aging into adolescence of youth in low-resource settings who acquired HIV perinatally
Regimens used for prevention of perinatal transmission and their effects on maternal and child health
Issues related to program implementation for children, women, and prevention of perinatal transmission
In addition, MPIDB staff is active in the IeDEA Pediatrics
, Data Harmonization
, and Tuberculosis
working groups and the IeDEA Executive Committee
.
Current Regions with NICHD Support for Pediatric/Maternal Databases
Asia-Pacific Region: Dr. Annette Sohn, amfAR TREAT Asia (Bangkok, Thailand) and Dr. Matthew Law, University of New South Wales (Darlinghurst, NSW, Australia), co-principal investigators
Caribbean, Central, and South America Region (CCASAnet): Dr. Catherine McGowan, Vanderbilt University (Nashville, TN), and Dr. Pedro Cahn, Buenos Aires University Medical School (Buenos Aires, Argentina), co-principal investigators
Central Africa Region: Dr. Kathryn Anastos, Montefiore Medical Center, Albert Einstein College of Medicine (Bronx, NY), Dr. Denis Nash, City University of New York, Institute for Implementation Science in Population Health (New York, NY), and Dr. Marcel Yotebieng, Albert Einstein College of Medicine (Bronx, NY), co-principal investigators
East Africa Region: Dr. Constantin Yiannoutsos and Dr. Kara Wools-Kaloustian, Indiana University School of Medicine (Indianapolis, IN), co-principal investigators
Southern Africa Region: Dr. Matthias Egger, University of Bern (Switzerland), and Dr. Mary-Ann Davies, University of Cape Town (South Africa), co-principal investigators
West Africa Region: Dr. Francois Dabis, Bordeaux School of Public Health (ISPED), INSERM U897 (Bordeaux, France) and Emmanuel Bissagnene, Institute of Public Health, Epidemiology & Development (ISPED) (Bordeaux, France), co-principal investigators
More Information