Overview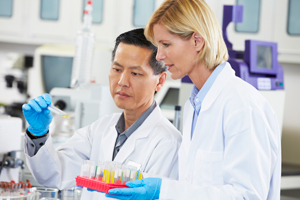 The CHRCDA program, started in 1990 as the Child Health Research Center program, aims to fill the gap in the training of junior faculty who intend to devote their careers to academic pediatrics.
The program, maintained through NICHD's Pediatric Growth and Nutrition Branch, provides a mechanism for sustained mentoring and intense laboratory-based training during this formative period by providing protected time for research training in the laboratories of scientific leaders.
This program stands out as an unusually successful early-career training program—as measured by funding rates of scholars—and has become a key resource for U.S. academic pediatric departments. Since its inception, the program has focused on the training and preparation of pediatric candidates with outstanding scientific potential. The resulting generation of physician-scientists has exceptional training in both clinical pediatrics and basic science, which enables it to bridge the gap between basic science and the successful treatment of human diseases.
The CHRCDA program does the following to develop the careers of its trainees:
Focuses on junior investigators within 4 years of completing their pediatric subspecialty training
Requires awardees to train in basic science and encourages them to seek mentors in laboratories outside of their pediatric department
Provides each awardee with a unique program based on past training experiences and future research and career goals
Includes requirements for external yearly program reviews
Includes program mentors with notable track records for successful mentoring
Offers guidance and feedback from program leadership through mandatory scholar presentations at annual meetings
Provides unique networking opportunities for scholars at annual meetings
Topic Areas
The primary aim of the program is to identify and match the most talented junior faculty at each center with appropriate scientific mentors. These mentors provide the background, techniques, and tools needed to help scholars build a foundation for becoming productive scientists and securing independent research funding.
At each center, established investigators/mentors provide expertise and make their laboratory facilities available to program scholars for research projects that will enhance their basic research skills. This experience also enables scholars to generate preliminary data that can be included in grant applications for independent funding.
Current Sites
Boston Children's Hospital
Cincinnati Children's Hospital Medical Center
Children's Hospital of Philadelphia
Children's National Medical Center (Washington, DC)
Duke University
Emory University
University of California, San Diego
University of California, San Francisco
University of Iowa
University of Michigan
University of Pittsburgh
Vanderbilt University Medical Center
Washington University School of Medicine (St. Louis, MO)
More Information
Winer, K. K., Rothenberg, M. E., Guimond, J., Handwerger, S., Boxer, L. A., Grave, G., Devaskar, S. U., ... Castle, V. P. (2012). The Child Health Research Centers: twenty-one years of promoting the development of pediatrician scientists from 1990-2011. The Journal of Pediatrics, 161, 6, 975-976. PMID: 23171484
NICHD Contact: Karen Winer